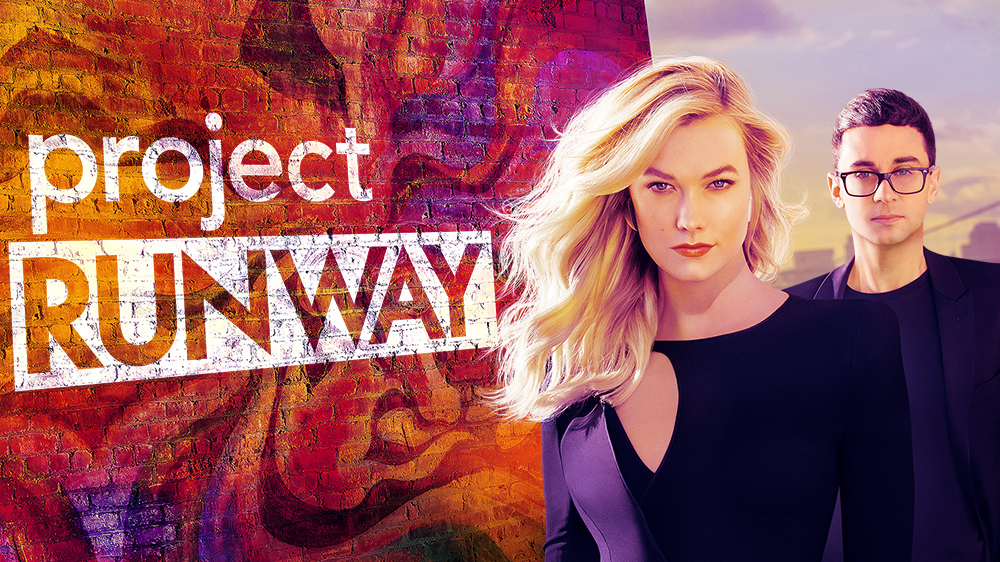 Project Runway designers are given an opportunity to launch their careers in fashion.
Add to my shows
Next episode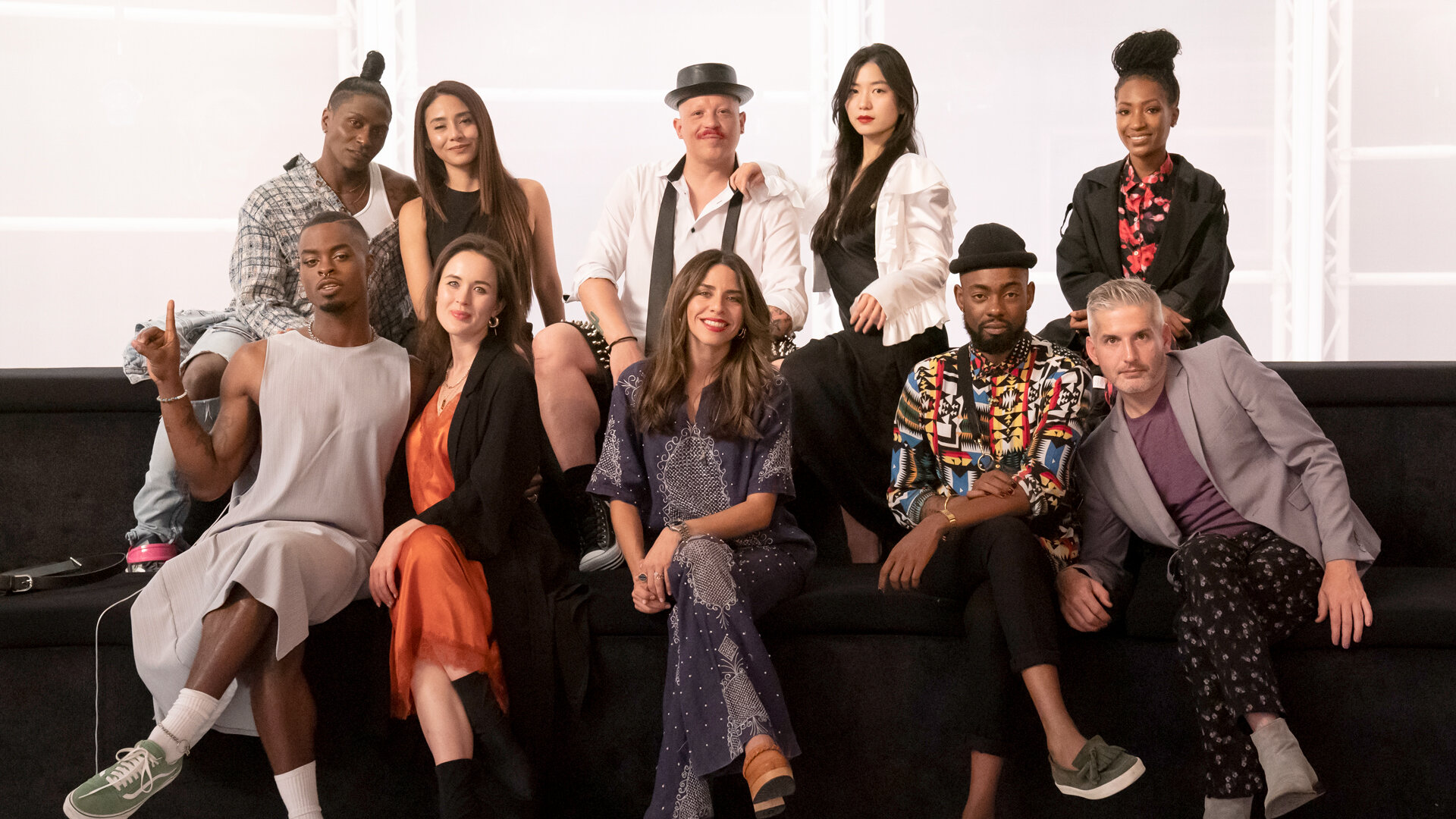 Couch Couture 19x08
friday
This week the designers are challenged to solve one of fashion's eternal struggles; can comfortable really be chic? But, there's nothing comfortable about designing for a one day challenge with a surprise workroom visit from season 19 winner Geoffrey Mac and pop legend Cyndi Lauper.
season 4
Finale, Part 2 04x14
06.03.2008
 What an end to another innovative and exciting season of Project Runway. This week, it was down to the final three designers -- Jillian, Rami, and Christian.   First, all three had to do a model casting for the show at Bryant Park. While Rami and Christian were happy with their choices, Jillian was nervous about hers and asked if she could replace one model. She was told by the agency that there was no time, and while she focused on the negative for a bit, she finally snapped out of it. After critiques from Tim and final preparations, the three finalists headed to Bryant Park for a once-in-a-lifetime experience. There they were met by a full tent of spectators, including guest judge Victoria Beckham.   In the end, while all the designers showed spectacular work, it was 21-year-old Christian Siriano who took home the title and the prizes. 
Finale, Part 1 04x13
28.02.2008
 The pressure was really on this week as Chris and Rami duked it out for the final spot in the final three. First, Tim traveled from coast to coast to visit the four remaining designers as they worked on their final collections. He not only saw where the designers lived and worked, he also met their friends.   Finally, all of the designers reconvened back in Manhattan. It was time for Chris and Rami to show their three strongest pieces to the judges. Chris got Christians' help for final touch-ups, while Jillian assisted Rami. Though both designers got their props and criticism from the judges, probably most note-worthy was Rami's increased use of construction and Chris's use of human hair to trim his pieces.   In the end, the judges made their decision and Chris was sent home. 
Reunion 04x12
21.02.2008
This week, all 15 Season 4 designers returned for a reunion filled with laughter (Michael Kors) and tears (Jack, Ricky, ... everyone).   Each designer revealed who they think will win Project Runway, and America revealed their Fan Favorite ... Christian. Season 3 Fan Favorite Mychael Knight made a cameo, presenting Christian with a check for $10,000.
The Art of Fashion 04x11
14.02.2008
This week's episode was quite the roller coaster for the five remaining designers -- all competing for the change to compete at Bryant Park.   First, the designers went on yet another field trip, meeting Tim Gunn at the Metropolitan Museum of Art. Once there, the designers had had to choose an inspirational piece from one of three wings -- the Greek and Roman Sculpture courtyard, the European Painting wing, or the Temple of Dendur -- and create a look of their choice. While Rami, somewhat predictably, chose a sculpture of Aphrodite housed in the courtyard, all of the other designers chose various works from the European Painting wing. In the end, Christian's androgynous take on a Spanish painting wowed the judges, including guest judge Robert Cavalli. Jillian's ready-to-wear take on "Master of the Argonauts" also won high praise and a spot in the finale.   In a Runway first, both Rami and Chris advanced, having to create final collections to be judged before competing in the finale. And unfortunately Sweet P was sent home, just shy of competing at Fashion Week.
Raw Talent 04x10
07.02.2008
This week, Tim took the designers on another field trip -- this time to ... another floor in their building! Behind closed doors, the designers heard, um, moaning, which was revealed to be coming out of the mouths of the WWE Divas!   This week's challenge was to create an outfit for the WWE Divas to wear in the ring. While some designers, like Chris, obviously, had a field day, others, like Sweet P found the challenge more, well, challenging.   In the end Chris' leopard-print ensemble wowed the judges, including guest judges Heatherette's Richie Rich and Traver Rains. And Ricky's bathing suit-style costume got him auf'd.
Even Designers Get the Blues 04x09
24.01.2008
This week, Tim Gunn took the remaining designers on a field trip where they were faced with clothesline upon clothesline of Levi's denim. Their challenge? To create an iconic denim look that captures the spirit of the 501 legacy. Some designers, like Ricky, went immediately for the dark washes, and others, like Jillian, grabbed the lighter washes.   During judging, the judges, including Levi's SVP of Design Caroline Calvin, were impressed with Ricky, Rami, Sweet P, and Christian's iconic looks, sending Jillian and Victorya into the bottom two. While both female designers made coats, Jillian prevailed, sending Victorya home. Ricky won the challenge, but, for the first challenge of the season, no immunity.
En Garde! 04x08
17.01.2008
This week, the models took a trip to the salon before being matched up with the designers. Heidi charged the designers with creating avant-garde designs inspired by their models' hairstyles. Back in the workroom, Tim informed the designers that they would be working in teams of two: Chris and Christian; Kit and Ricky; Victorya and Jillian; and Rami and Sweet P. The designers also had to decide whose model they would use. While Victorya and Jillian worried about time, Rami and Sweet P worried about each other's work methods. In the midst of all the hoopla, Tim broke the bad news to the designers: They would need to make a second garment -- a ready-to-wear design that expresses the essence of the avant-garde design. In the end, the judges, including guest judge Alberta Ferretti were impressed with "Team Fierce," comprised of Christian and Chris, and Victorya and Jillian.   While Sweet P's ready-to-wear garment got positive reviews, the judges were disappointed with Rami's avant-garde look. However, neither of Kit and Ricky's designs dazzled the judges, sending team leader Kit home.
What a Girl Wants 04x07
10.01.2008
Project Runway went back to high school this week as the designers helped their student models get ready for prom -- one of the most important nights in a girl's life, as Heidi says. All of the designers had to work with their teen clients -- and clients' mothers -- on their concepts, and while most didn't have a problem, Christian found his client to be rather difficult, and let the judges know.   Other designers, like Rami and Ricki, may have been confident in their designs, but the judges weren't too keen on them. In the end, Christian's inability to take charge put him in the bottom two, but the judges found that Kevin's too-mature red dress should send him home instead.   The judges, including guest judge Gilles Mendel, found Victorya's short blue sheath and Sweet P's long champagne ensemble the most appropriate, and the win went to Victorya.
Eye Candy 04x06
03.01.2008
This week brought the designers to the Hershey's flagship store in Time Square, New York. Tim told the designers that they would have five minutes to grab whatever they could as raw materials.   Back in the workroom, the designers had the freedom to create whatever look they wanted with the delectable treats. Only Jillian opted to create an edible ensemble, which turned out to be a harder task than anticipated. While she worried about time, Christian, once again, finished early and proceeded to, um, help others. Some designers, like Kevin, didn't find him so helpful, while Sweet P changed her look almost completely.   In the end, Jillian did finish and ended up with one of the best designs of the challenge. But the win went to Rami, who impressed guest judge Zac Posen, while Elisa's "macabre" dress sent her home.
What's the Skinny? 04x05
13.12.2007
The designers are asked to re-style the outfits of 12 women, all of whom have lost a significant amount of weight. Standing on the runway in clothes that are much too big, the woman are paired off with a designer.   All is going well, until Jack reveals that he has developed a staph infection in his face, and must leave the competition. The shell-shocked designers are discombobulated further by news that previously-auf'd designer Chris March will return to the competition.   In the end, Christian's two-piece design wins the competition, while Steven goes home for "turning a wedding dress into a funeral dress."
Trendsetter 04x04
06.12.2007
The remaining designers must split up into teams to participate in a battle involving major fashion faux pas.
Fashion Giant 04x03
29.11.2007
In a Project Runway first, the designers are asked to design menswear for football great Tiki Barber. A gaggle of male models invade the workroom and flummox most every designer. But the challenge proves terribly difficult. Some designers have never sketched menswear, and most are having trouble with the patterns. As each look walks down the runway, some looks are exceptional, and some are not finished. In the end, Jack's classic dress shirt and pants win the challenge, but Carmen's time-constraints prove to be her downfall.
I Started Crying 04x02
22.11.2007
The designers are visited by a surprise guest judge. Speculation runs rampant -- from Snow White to Madonna -- until fashion icon Sarah Jessica Parker enters the work room. The designers are charged with pairing off and creating a look based on the "BITTEN" line, clothes for women of various shapes, ages, and sizes. As the designers are paired off, both the talents and the quirks of each come staggeringly close to colliding. In the end, Sarah Jessica chooses Victorya's design to be a part of her line, and Marion's design, with it's growing fabric, cannot be saved by Steven's quick thinking.
Sew Me What You Got 04x01
15.11.2007
In the Season 4 premiere episode, Heidi Klum and Tim Gunn meet the anxious group of contestants in New York City's Bryant Park, the very spot this season's finalists will showcase their final collection at the end of the Project Runway journey. This highly talented and established group of designers have a limited amount of time to scramble for luxurious fabrics to work with and there are no parameters to this challenge besides wowing the judges and showing what they are made of -- any designer's dream. The designers immediately head to the workroom to start creating their first design. When they line up on the runway, top eveningwear and bridal designer, Monique Lhuillier, joins Klum, Michael Kors, and Nina Garcia, on the judging panel as they decide who will be "in" and who will be "out."