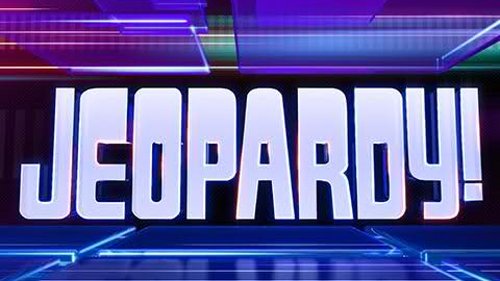 Jeopardy! is a classic game show -- with a twist. The answers are given first, and the contestants supply the questions. Three contestants, including the previous show's champion, compete in six categories and in three rounds (with each round's "answers" being worth more prize money).Contestant images from 2015 onwards are provided courtesy of Fikkle Fame.
Add to my shows
Next episode
Returning Champion Vs. Tyler Rhode Vs. Jennifer Mosher, show # 8498. 2021x33
tomorrow
Returning Champion; Tyler Rhode / New York, New York, Healthcare Data Specialist; Jennifer Mosher / Sacramento, California, Data Specialist.
Latest episodes
Returning Champion Vs. , show # 8390. 2021x84
30.04.2021
Returning Champion; 
Returning Champion Vs. , show # 8389. 2021x83
29.04.2021
Returning Champion; 
Returning Champion Vs. , show # 8388. 2021x82
28.04.2021
Returning Champion; 
Returning Champion Vs. , show # 8387. 2021x81
27.04.2021
Returning Champion; 
Returning Champion Vs. , show # 8386. 2021x80
24.04.2021
Returning Champion; 
Returning Champion Vs. , show # 8385. 2021x79
23.04.2021
Returning Champion; 
Returning Champion Vs. , show # 8384. 2021x78
22.04.2021
Returning Champion; 
Returning Champion Vs. , show # 8383. 2021x77
21.04.2021
Returning Champion; 
Returning Champion Vs. , show # 8382. 2021x76
20.04.2021
Returning Champion; 
Returning Champion Vs. , show # 8381. 2021x75
17.04.2021
Returning Champion;