Life is hard on the Flemings' ranch in the Alberta foothills where abused or neglected horses find refuge with a kind, hard-working family. Debts abound and the bank is about to foreclose. Can they keep the ranch running?
Add to my shows
Next episode
The Long Game 15x09
monday
season 5
Candles in the Wind 05x18
26.03.2012
When a mystery horse arrives at Heartland, Amy and Ty are sent down a path that will alter their lives.
True Calling 05x17
19.03.2012
When Amy's dog Lobo is injured by a trigger-happy rancher, it's up to Ty to save his life.
Wild Horses 05x16
12.03.2012
Amy and Ty join Scott on a trip back to his old reservation to save a herd of wild horses from the dangerous EHV-1 virus.
Breaking Down and Building Up 05x15
05.03.2012
When tragedy strikes Amy must find a way to save Mr. Hanley's rescue horses from kill buyers.
Working on a Dream 05x14
27.02.2012
Amy is roped into helping Tim project a positive image to the community, in hopes it will further his custody case for Shane.
Aftermath 05x13
13.02.2012
In an attempt to avoid hitting a wolf, Ty is badly injured when he crashes his bike on a remote road, leaving Jack to search for help in the middle of nowhere.
Road to Nowhere 05x12
23.01.2012
When Jack learns Ty is riding his bike solo to a remote lake to spread his father's ashes he decides to surprise Ty and join him for this meaningful road trip.
Fool's Gold 05x11
16.01.2012
Ty's mother Lily returns to Heartland with shocking news about his father, and a secret that threatens her relationship with her son.
Trust 05x10
09.01.2012
When Amy bravely tries to heal an abused (and now extremely violent) racehorse Ty and Jack think she's finally bitten off more than she can chew.
Cover Me 05x09
05.12.2011
When Tim's young racehorse Cisco is stolen on the way to his maiden race, Amy and Ty get help tracking him down from an unlikely source - Ty's step-father, Wade.
Nothing for Granted 05x08
21.11.2011
When Ty visits Mrs. Bell to thank her for paying his school fees he and Amy are surprised to learn she's moved out of her home, and away from Sugarfoot.
Over the Rise 05x07
14.11.2011
When Shane arrives to stay for the summer, Tim tries to impress all three of his kids with a really cool Western day trip.
The Slippery Slope 05x06
31.10.2011
A friend from Jack's past shows up at Heartland when one of their old band mates passes away. Lou & Lisa secretly try to gather the other remaining members for a reunion performance to celebrate Jack's birthday.
Never Let Go 05x05
24.10.2011
Amy helps to restore the confidence of a troubled, young trick-rider so that she can get back on her horse and perform again.
Beyond Hell's Half Mile 05x04
17.10.2011
When Amy works with a chuck wagon horse she discovers an impediment that could put the entire team in danger & change the dynamics of a prominent chuck wagon family.
What's in a Name? 05x03
03.10.2011
When Tim reveals to the family that Shane is his son it throws everybody for a loop and threatens to ruin the traditional Bartlett-Fleming naming ceremony for Lou's baby!
Something in the Night 05x02
26.09.2011
When Tim is coerced to go with Jack on a secret mission Amy is left back at Heartland with Janice to get a young racehorse ready for his maiden run.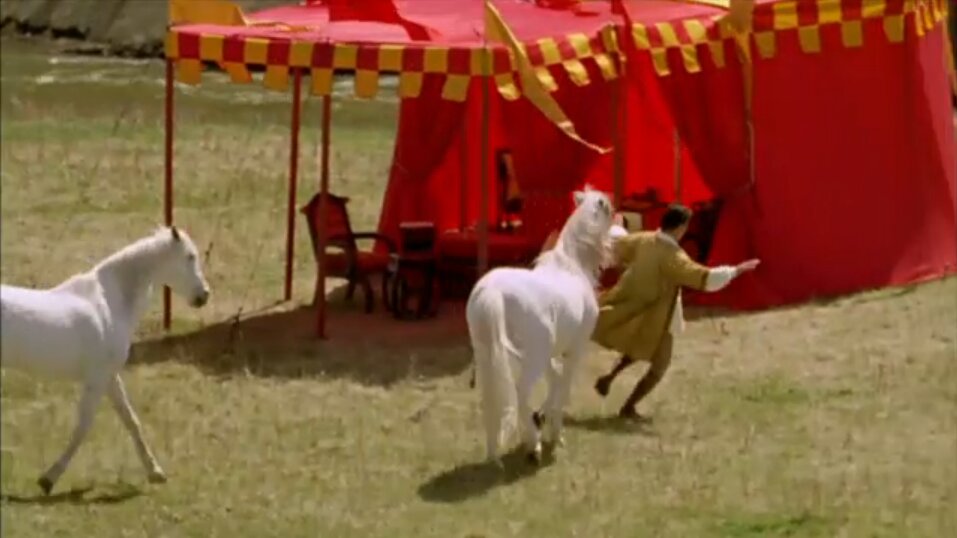 Finding Freedom 05x01
19.09.2011
Amy is inspired to take her horsemanship to a new level when she works with a professional liberty horse trainer.