Life is hard on the Flemings' ranch in the Alberta foothills where abused or neglected horses find refuge with a kind, hard-working family. Debts abound and the bank is about to foreclose. Can they keep the ranch running?
Add to my shows
Next episode
The Long Game 15x09
monday
season 2
Step by Step 02x18
23.03.2009
Ty and Amy are finally forced to deal with their feelings for each other after a snowstorm strands them at Jack's fishing cabin in the mountains.
Full Circle 02x17
16.03.2009
Amy heads into the mountains to visit a First Nations horse healer named Victor Whitetail, and leaves with a new understanding about horses, her mom and herself.
The Ties That Bind 02x16
09.03.2009
Amy and Ty will stop at nothing to get Spartan back after he's stolen.
Dark Horse 02x15
02.03.2009
Lou resurrects the Hudson Derby, stirring up an age-old grudge match between Jack and Tim.
Do or Die 02x14
16.02.2009
Clint brings two tough kids on probation to Heartland forcing Ty to deal with a part of his past he'd rather forget.
Seismic Shifts 02x13
09.02.2009
Lou goes head to head with Big Alberta Oil when seismic surveyors force their way onto Heartland.
Divorce Horse 02x12
19.01.2009
Lisa meddles into Lou's business and personal life with disastrous results.
Starstruck! 02x11
12.01.2009
When Hollywood comes to Heartland, Amy is so starstruck, she loses track of what's really important in her life.
True Enough 02x10
05.01.2009
When Amy's not so favourite teacher Ms. Adams, brings a horse named Boxer to Heartland, Amy learns a valuable lesson about fathers and daughters.
Showdown! 02x09
08.12.2008
Tension reaches new heights when cattle rustlers hit Tim's Big River Ranch.
Summer's End 02x08
01.12.2008
In the middle of heat wave, a cattle truck loaded with thirsty and overheated horses pulls into Heartland. Ty can hardly believe his eyes when the driver turns out to be his dad.
Sweetheart of the Rodeo 02x07
17.11.2008
With the annual Hudson Heritage Rodeo looming, everyone at Heartland gets roped into the action and intrigue of broncs, bulls, beer, beauty queens and belt buckles.
Holding Fast 02x06
10.11.2008
Out for a ride along the river, Amy comes across an RCMP officer desperately trying to save a young boy from drowning.
Corporate Cowgirls 02x05
03.11.2008
Lou doubts her choice to live and work at Heartland when a group of corporate career women arrives for a weekend retreat.
Dancing in the Dark 02x04
27.10.2008
As friends and neighbours gather to pay their respects at a memorial for Ray Philips, Tim secretly makes plans to buy Big River Ranch.
Gift Horse 02x03
20.10.2008
Her father's gift forces Amy to make a difficult choice between a career in show jumping or her work at Heartland.
Letting Go 02x02
13.10.2008
Ty can gain the trust of a wild horse, but can he regain Amy's trust?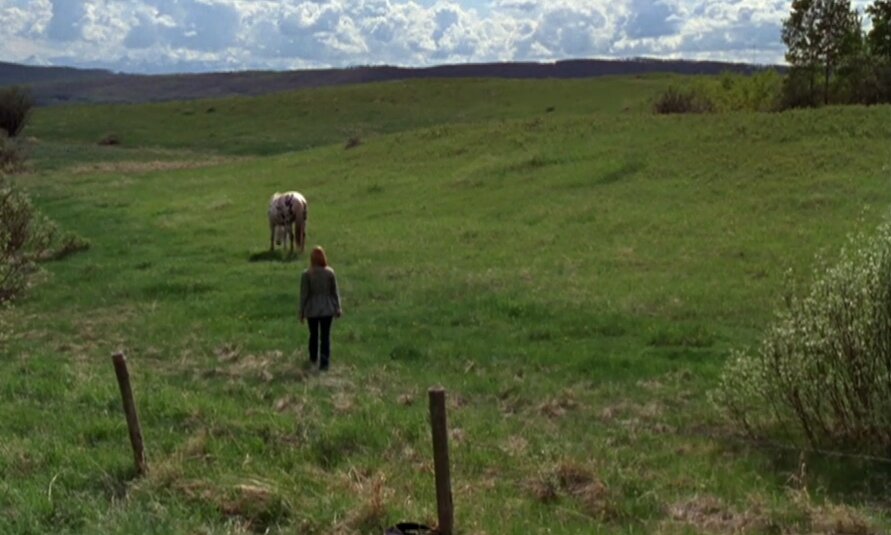 Ghost Horse 02x01
06.10.2008
Amy's secret birthday wish is fulfilled when Ty returns to Heartland, but she soon realizes she can't start over from where they left off.