Set in the East End of London, the show focuses on the tensions between love and family with stories ranging from hard-hitting social issues, to personal, human tragedies. And there's plenty of funny moments too. Classic characters old and new across thousands of episodes have shared a drink in The Queen Vic, shed tears of despair or joy, sat on Arthur's bench in the Square... and at some point or other they probably crossed paths with Ian Beale.
Add to my shows
Next episode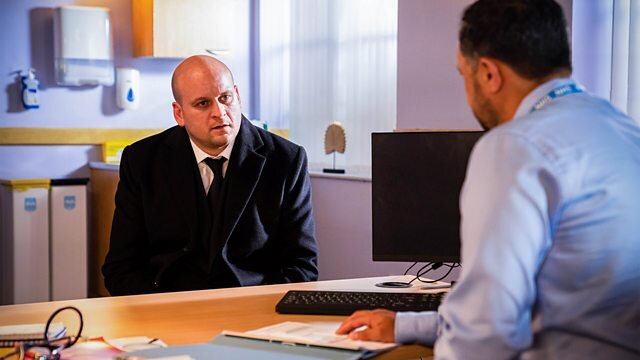 06/12/2021 37x193
tomorrow
Kim questions everyone around her, Iqra makes a goodwill gesture, and Stuart gets concerning news.
season 37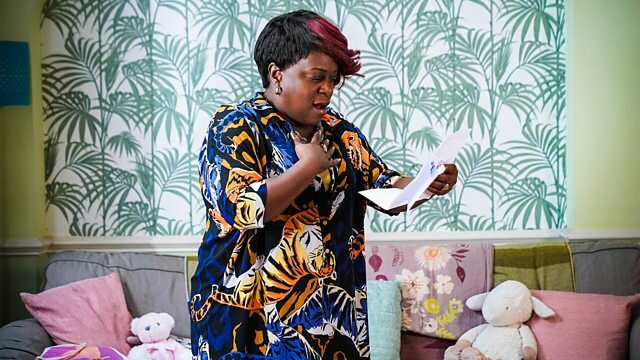 03/12/2021 37x192
saturday
The Taylors are devastated, and Karen makes clear who is to blame. Aaron continues to manipulate a situation to his advantage. Kim realises she needs to move forward, but her plan is halted by Howie.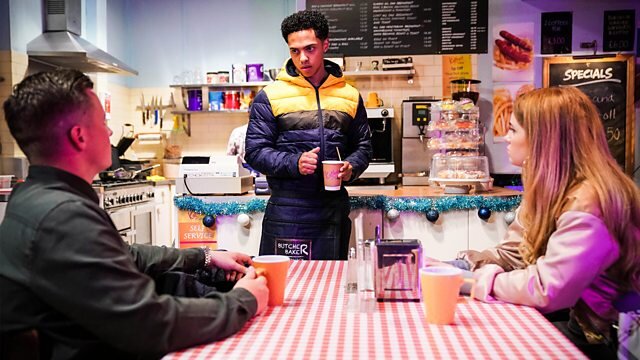 02/12/2021 37x191
friday
Tiffany learns a valuable lesson the hard way. Eve keeps her scheming under wraps, but Stacey is suspicious. Denise gets an idea to help Kim, and Phil steps up for Sharon.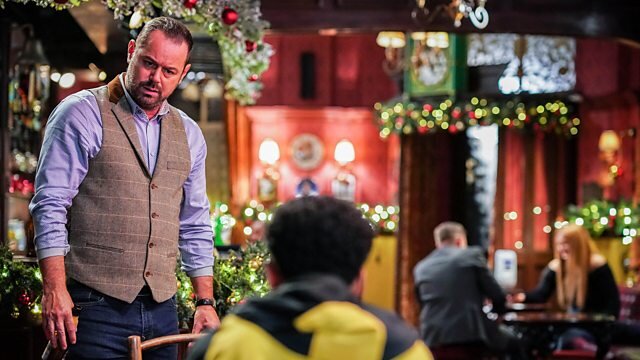 30/11/2021 37x190
wednesday
Things get awkward when Tiffany spots Keegan out on a date. Ash gets some good news, but her kindness comes back to bite her. Stuart gets some unexpected news as Zack desperately tries to fix his mistake.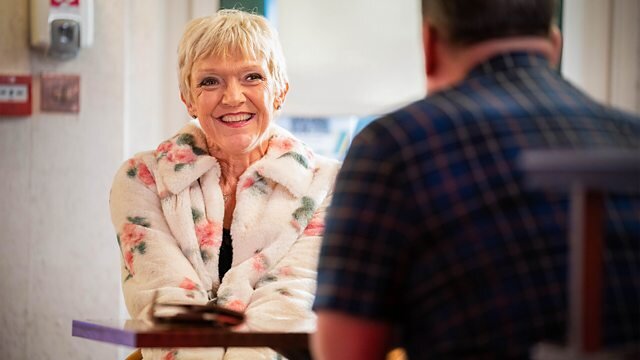 29/11/2021 37x189
tuesday
Sharon takes a big step in the right direction, only for things to fall through when Zack gets involved. Harvey has a disastrous date, and Mick's attempt to help Janine backfires.
26/11/2021 37x188
27.11.2021
Janine opens up about her dad, Phil appeals to Martin and Zack for help, and Vinny saves the day for Dotty.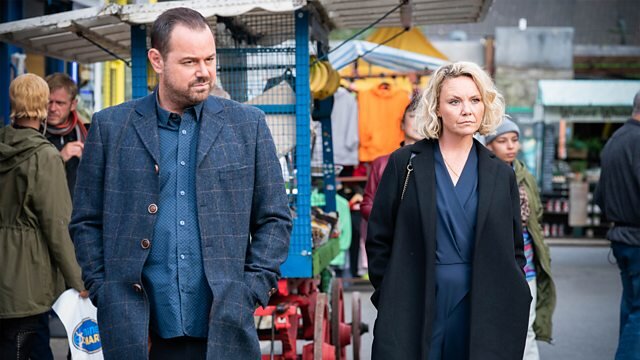 25/11/2021 37x187
26.11.2021
Phil is wary of Jada and wants answers, a devious Janine is desperate to teach Peter a lesson, and Dotty does what she can to help her mum.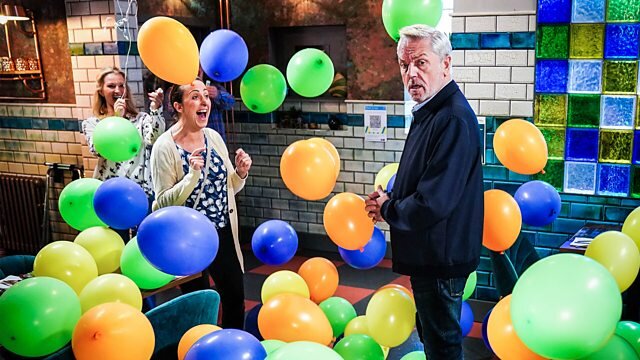 23/11/2021 37x186
24.11.2021
A big surprise for Rocky forces him to rethink everything. Under pressure, Gray makes a risky move for his family, and Kat is concerned as Phil steps up for Sharon.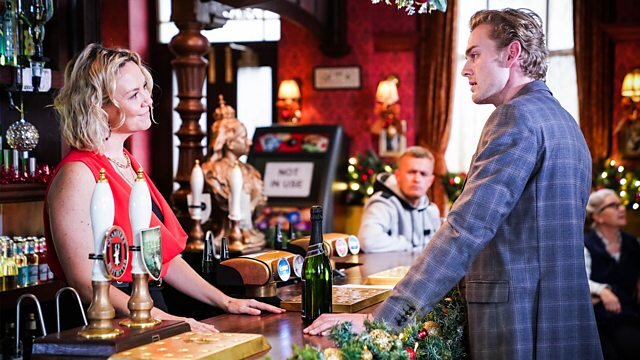 22/11/2021 37x185
23.11.2021
Dotty is stunned when her mum, Sandy, returns. Chelsea and Denise face a big hurdle in planning their nuptials. Peter faces competition in his bid to sponsor the Square's Christmas tree.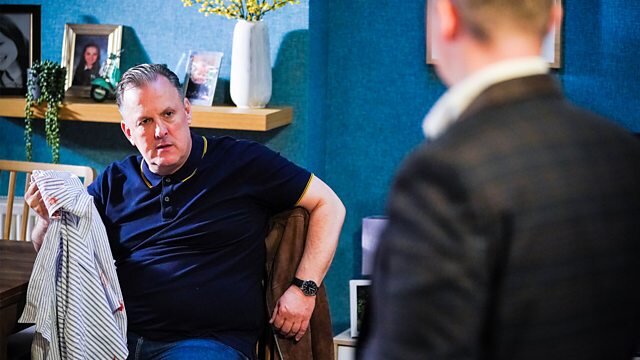 18/11/2021 37x184
19.11.2021
Sparks fly for Jean and Harvey. Dotty is surprised at Sonia's kind offer, and Rocky feels guilty as he tries again with Kathy.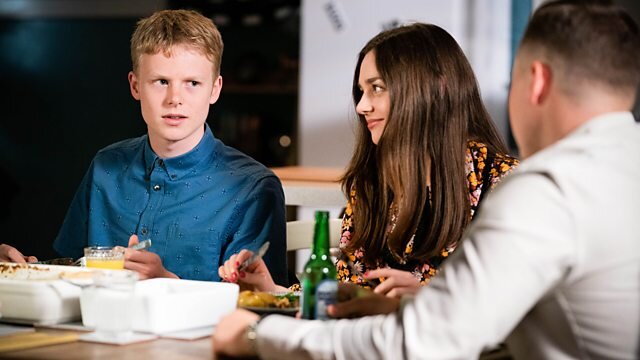 16/11/2021 37x183
17.11.2021
Lunch at Harvey's takes an awkward turn, Phil arrives home to Slater family chaos, and Gray takes control, leaving Chelsea fuming. Whitney uncovers the truth, but will she let on?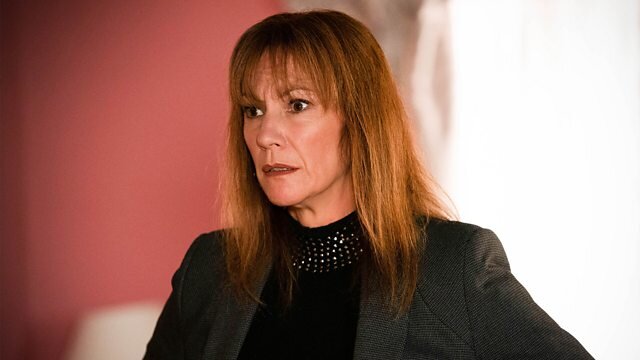 15/11/2021 37x182
16.11.2021
Dana gives Harvey an ultimatum, Stacey desperately appeals to Kheerat for help, and Vi opens up to a concerned Rainie.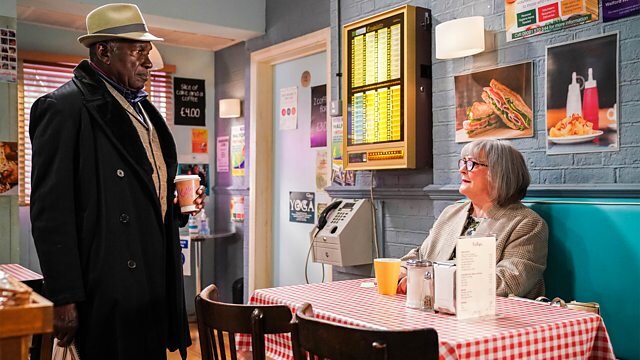 12/11/2021 37x181
13.11.2021
Tiffany has second thoughts about her upcoming date. Stacey and Jean struggle to find common ground, and Patrick is a supportive figure for Vi.
11/11/2021 37x180
12.11.2021
Liam helps Tiffany out and spots an opportunity. Fed up with her living situation, Kat makes a big decision. Ben worries that Callum is hiding something from him.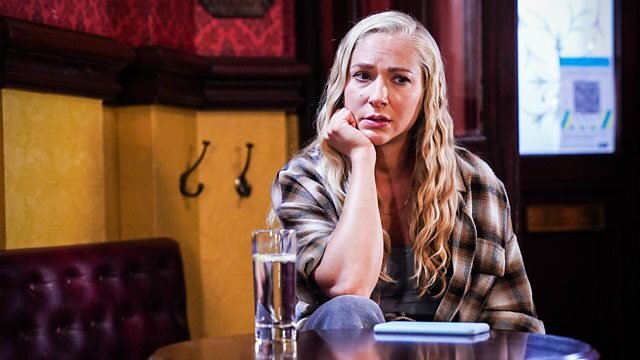 09/11/2021 37x179
10.11.2021
Zack tries to be the voice of reason, Nancy opens up to Mick about her insecurities, and Kim is determined to give the best life to her children.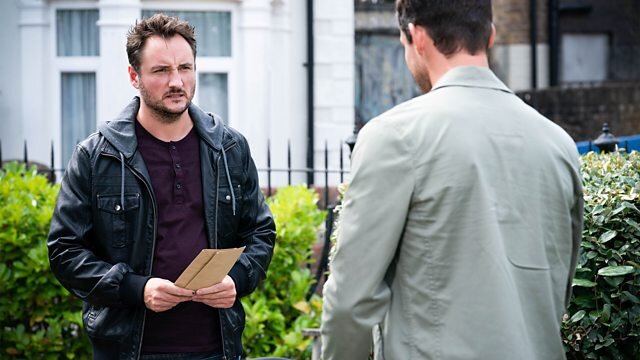 08/11/2021 37x178
09.11.2021
 Martin and Zack nervously await news that could change their future.Callum feels insecure about Ben's past, and Chelsea is unsure about telling Gray's kids she's pregnant.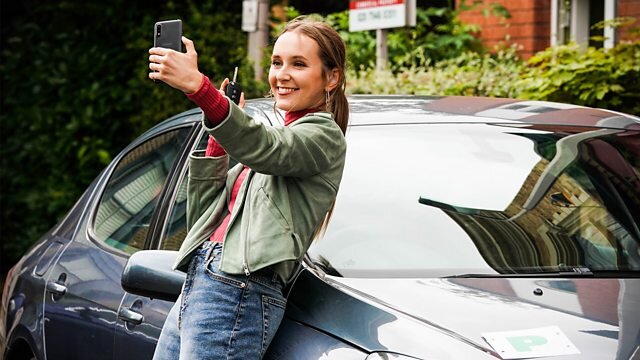 05/11/2021 37x177
06.11.2021
Sibling rivalry reaches boiling point between Nancy and Frankie. Martin confides in Sonia about his suspicions. Suki tries to make amends.
04/11/2021 37x176
05.11.2021
Patrick makes a discovery. With pressure mounting Rocky encourages Peter to make a business deal.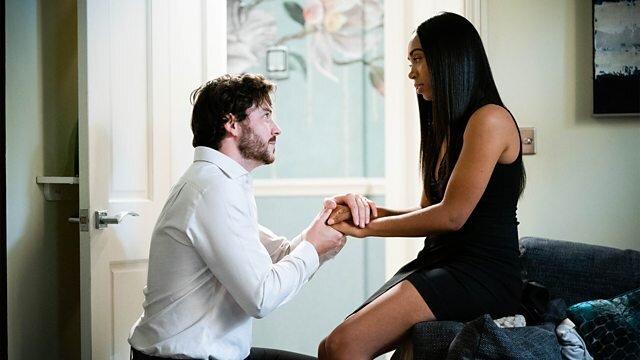 02/11/2021 37x175
03.11.2021
Chelsea offers support but is left stunned. Mick arrives back to chaos. Stuart is livid when he learns the truth.
01/11/2021 37x174
02.11.2021
Stacey puts her plan into action. Rainie senses something amiss with Vi.
29/10/2021 37x173
30.10.2021
Eve makes her arrival in Albert Square known, a doorstep surprise for Zack, Martin and Sharon leaves them stunned, and Rocky's pitch to Peter doesn't go down well.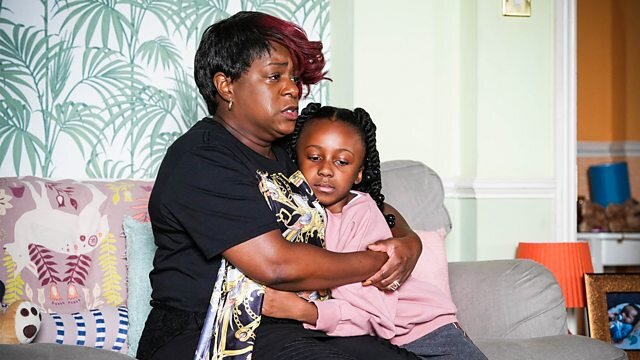 28/10/2021 37x172
29.10.2021
A heartbroken Kim has a tough conversation with Pearl. Reality sets in for Stacey when a visit from the probation officer spells trouble, and Dana is determined to make things right for her dad.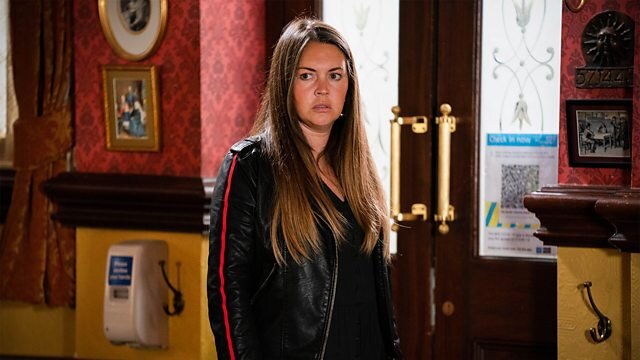 26/10/2021 37x171
27.10.2021
Pushed to breaking point, the Slaters make a move that infuriates Suki.Finding herself in more strife, Dotty opens up to Keegan.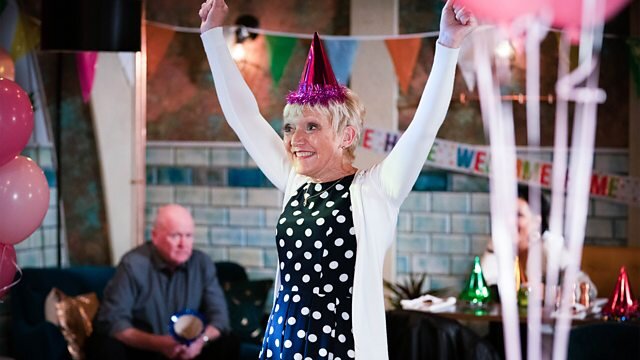 25/10/2021 37x170
26.10.2021
Stacey is back in Walford, and it's not long before she leaves Martin speechless. Tiffany's attempt to move on from Keegan doesn't go to plan, and a scheming Janine targets Jay.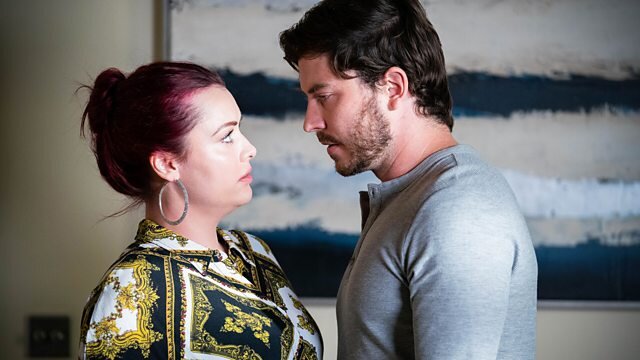 22/10/2021 37x169
23.10.2021
Whitney helps Gray through a tough time. Billy tells Janine the clock is ticking as he tries to do things his way. Kim finally gets what she wants, but it leaves Denise in a predicament.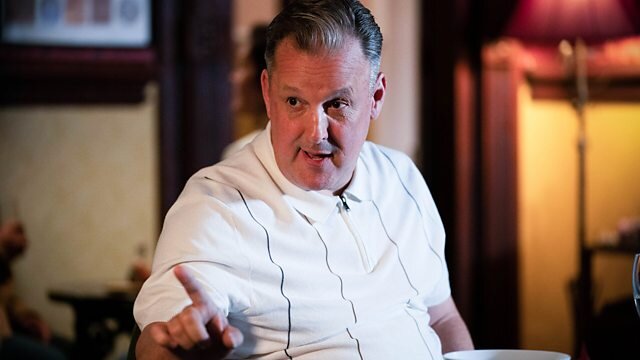 21/10/2021 37x168
22.10.2021
Chelsea gets a rude awakening and makes her mind up. Kim pieces the puzzle together. Dana is less than impressed when her brother Aaron arrives and takes an interest in Tiffany.
19/10/2021 37x167
20.10.2021
Gray's money issues continue as Whitney worries about a future between them. Harvey tries to clear the air with Ash but makes things worse with Dana. Janine and Liam put their plan into motion as Billy has his eye on them both.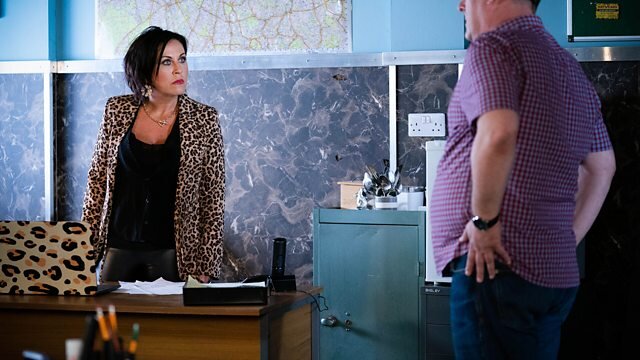 18/10/2021 37x166
19.10.2021
Liam tells Janine the truth as she vows to help out her nephew. Whitney tries to get a very stubborn Chelsea to tell the truth. Denise is delighted things are going back to normal, but Kim doesn't share the sentiment.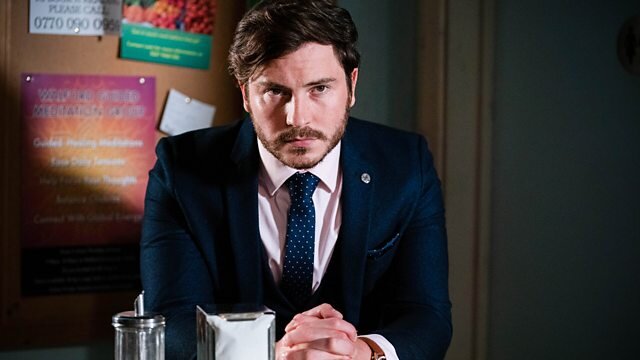 15/10/2021 37x165
16.10.2021
Kim faces a harsh reality, Chelsea and Whitney form an unlikely bond as Gray is left in a predicament with work. Billy offers to help Janine out, much to Jay's disapproval.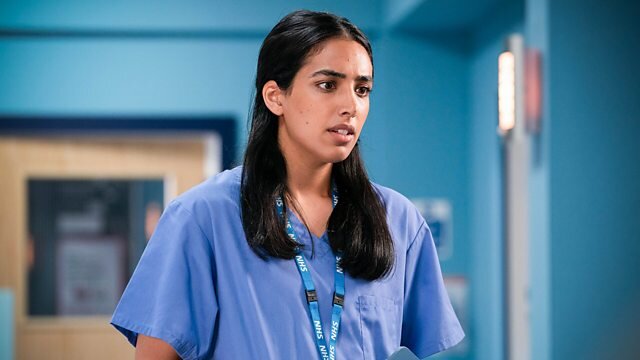 14/10/2021 37x164
15.10.2021
Phil gets increasingly anxious as Kim searches for the truth. Kat reaches boiling point with Janine, and Ash's terrible day at work goes from bad to worse as Chelsea tries to confide in Denise.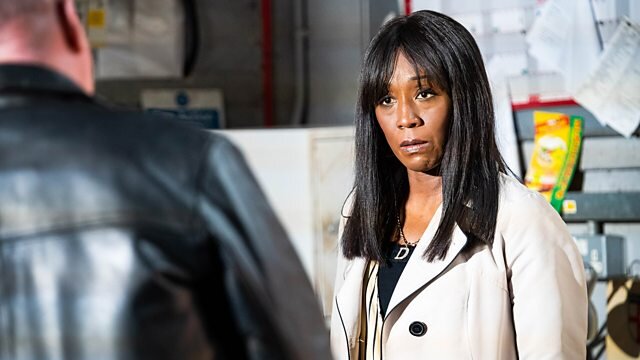 12/10/2021 37x163
13.10.2021
Kat is shocked to learn why Tommy has been acting out, and Janine goes to great lengths for Scarlett's school project in a bid to win her daughter's affection.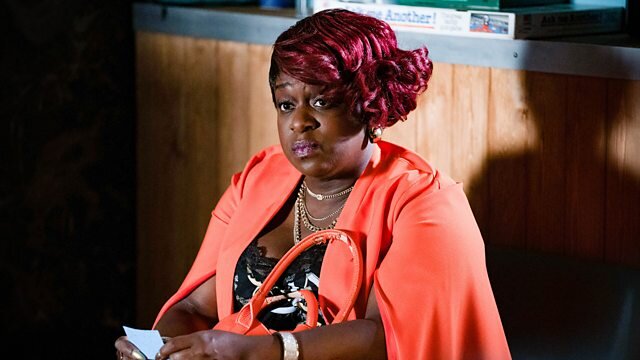 11/10/2021 37x162
12.10.2021
Kim is thrown when someone from her past comes back to haunt her. Dana starts to worry about Bobby's behaviour.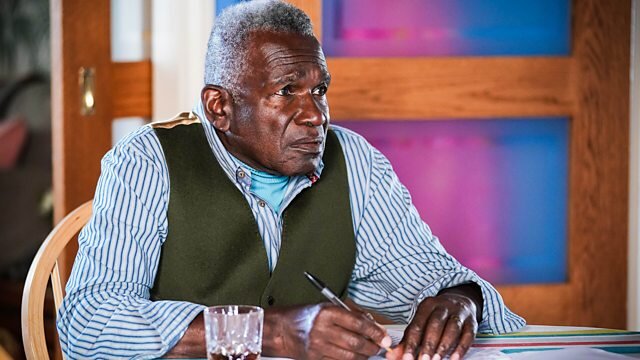 08/10/2021 37x161
09.10.2021
Keegan's suspicions of Liam grow, Dotty's frustrations increase as her mum comes under fire once more, and Jay has a plan for revenge.
07/10/2021 37x160
08.10.2021
Bernie starts to worry about Rainie's behaviour, Keegan makes a huge decision, and Bobby has an idea to help Martin.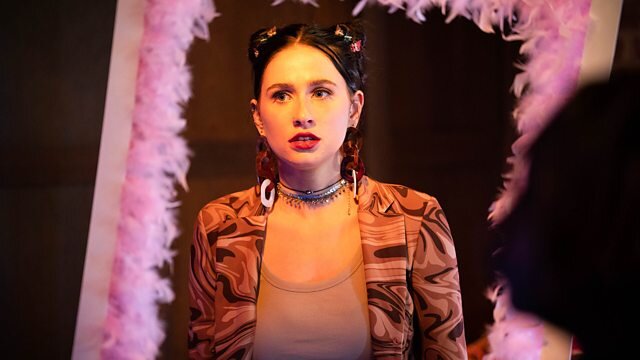 05/10/2021 37x159
06.10.2021
Dotty is left shocked by an unwanted reveller, Suki is mortified as the truth comes out, and Zack pulls a prank that ends badly.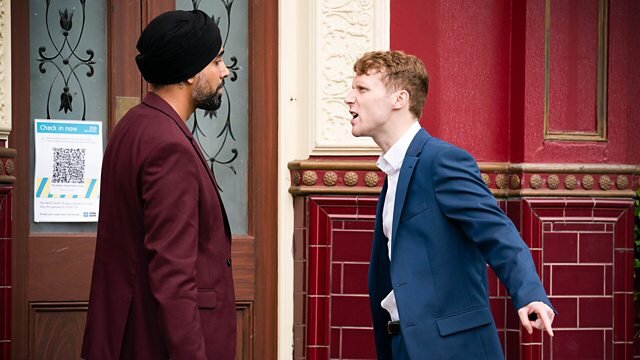 04/10/2021 37x158
05.10.2021
Suki uses her authority to get revenge on Honey, while Vinny steps up for Dotty. Desperate for money, Martin is forced to take a new job.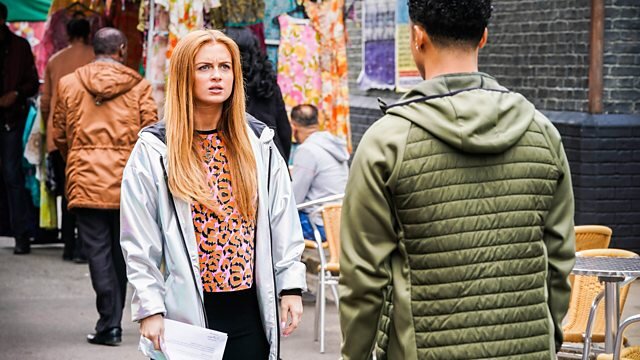 01/10/2021 37x157
02.10.2021
Tiffany is left feeling foolish but is shocked when she gets a surprise visitor. Suki offers Honey a harsh warning, Sharon's attempt to help Martin doesn't go to plan, and Denise is stunned when she realises what Sheree has done.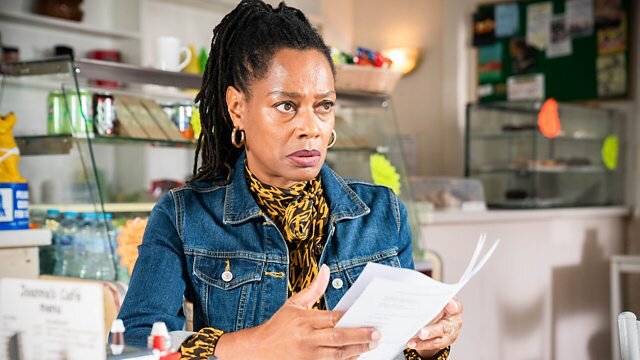 30/09/2021 37x156
01.10.2021
Feeling hurt, Sheree makes a big decision - but at what cost? Bernie hears alarm bells with Rainie, Keegan vows to help get to the truth, and Whitney waits for an important call.
28/09/2021 37x155
29.09.2021
Lola and Isaac hit a speed bump as they try to secure their future. Kim has another new career plan, Zack has a proposition to help Martin, Jean heads to court, and Gray orchestrates another situation to get what he wants.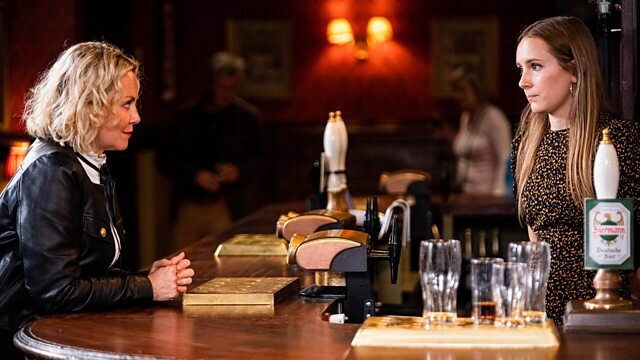 27/09/2021 37x154
28.09.2021
Harvey gets in between Bobby and Dana, Janine gets a wake-up call and vows to make a change, and Whitney is grateful when Gray steps up for her.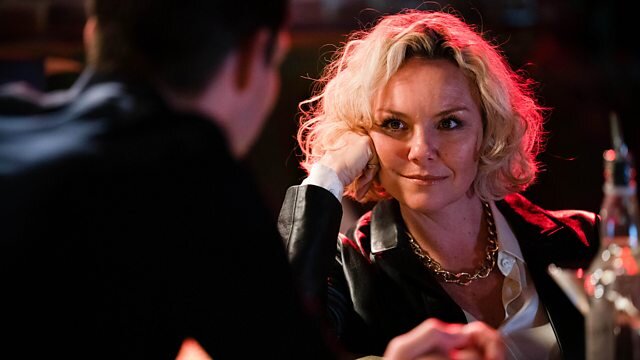 24/09/2021 37x153
25.09.2021
Sheree's plans backfire significantly, and Harvey is determined to break up Dana and Bobby.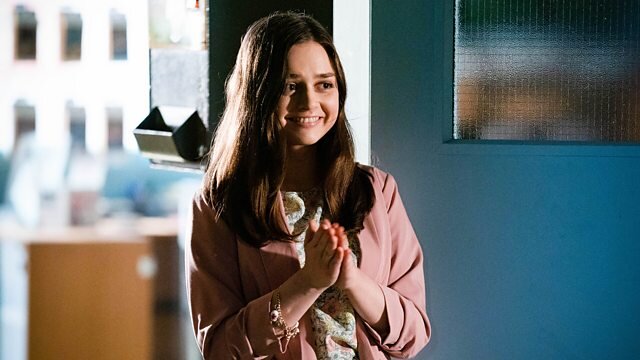 23/09/2021 37x152
24.09.2021
Bobby and Dana face a huge test to their relationship, Ben is adamant that Isaac must stay away from his daughter, and Zack lends a hand to a friend.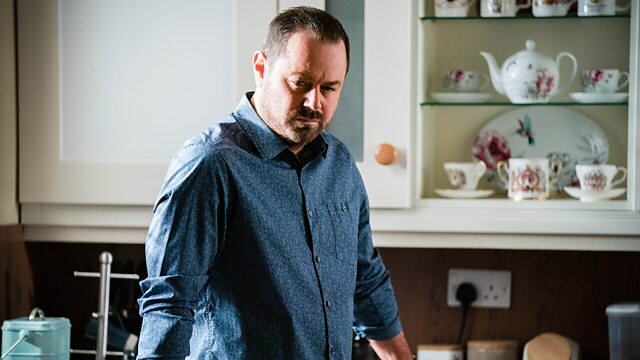 21/09/2021 37x151
22.09.2021
Sheree is determined that Lola must stay away from Isaac, Stuart retaliates, and the Carters make a big decision.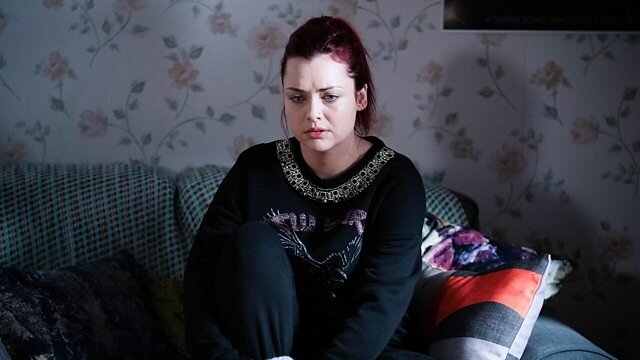 20/09/2021 37x150
21.09.2021
Mick gives Rainie as taste of her own medicine as he tries to protect his family. Rocky defends Sonia's honour, and Martin gets a huge reality check.
17/09/2021 37x149
18.09.2021
Sonia gets more than she bargained for at the gym. Dotty and Tiffany finally come to blows. There's excitement over Bernie's baby scan but something is up with Rainie.
16/09/2021 37x148
17.09.2021
Jean is under pressure as she's pushed to reveal everything. Tiffany gives Sonia an ultimatum – it's her or Dotty.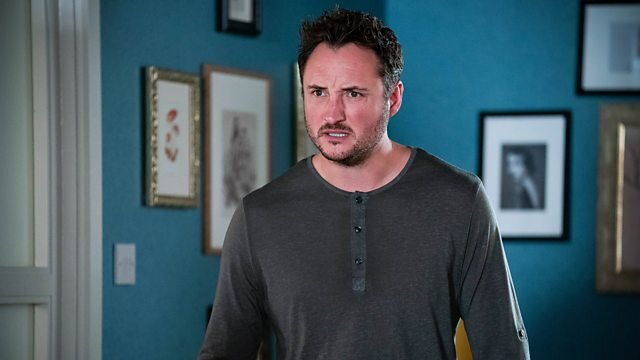 14/09/2021 37x147
15.09.2021
Martin's discovery about his wife leaves him shocked. Shirley comes clean to Mick. Rainie's suspicions continue to rise.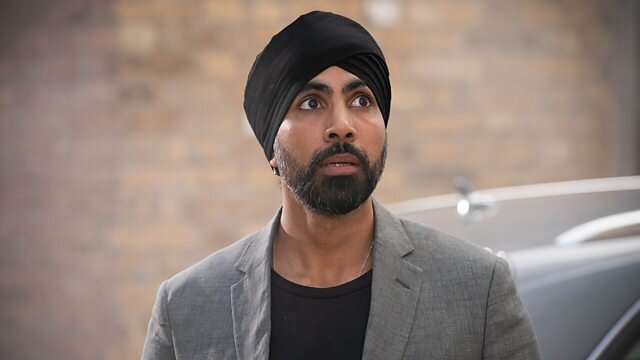 13/09/2021 37x146
14.09.2021
There's panic as a fire breaks out at the Mitchell's, with people trapped inside. Jack is determined to find out the truth. Jean lands herself in hot water with the police.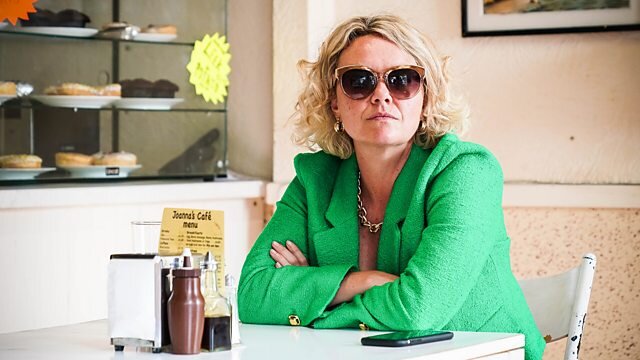 10/09/2021 37x145
11.09.2021
Shirley lets her anger get the better of her, with dire consequences all round. Ruby acts out of spite and desperation, and Linda panics that she has been found out when Jack makes a revelation.
09/09/2021 37x144
10.09.2021
Kat gets a call from Scarlett's social worker. Vi's comment leads Rainie on the path to find the truth. Shirley and Jean team up to make some cash in a less than legal way.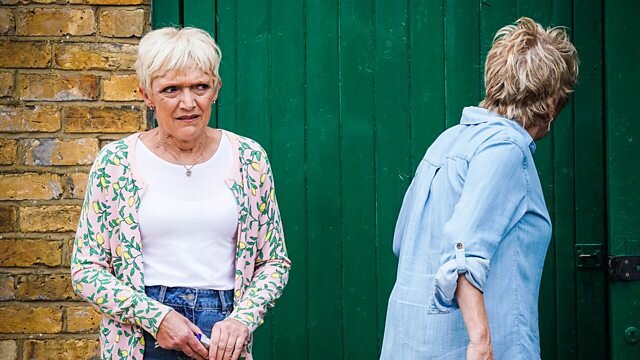 07/09/2021 37x143
08.09.2021
Zack meets a new woman in an unlikely place, Gray thinks on his feet to salvage his money issues, and Kat makes a big decision and vows to help Scarlett.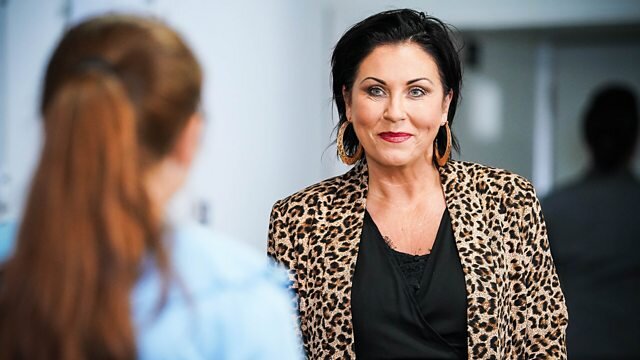 06/09/2021 37x142
07.09.2021
Kat realises she needs to tell her son the truth. Ruby tries to distract Martin as she has broken a promise. Sharon needs some convincing that she's done the right thing, as a familiar face makes an unexpected appearance
03/09/2021 37x141
04.09.2021
Suki plays nasty with Honey, Sharon's conscience is heavy, and Tommy wants answers to important questions.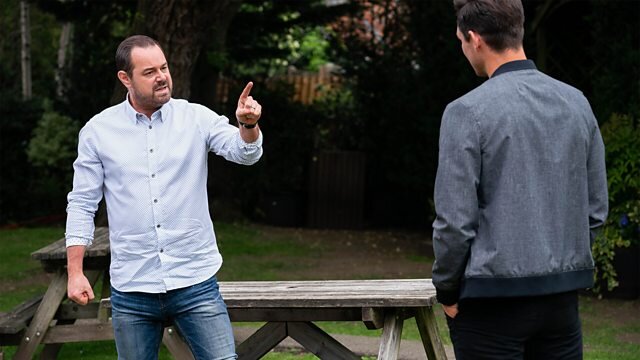 02/09/2021 37x140
03.09.2021
The Carters appeal to Sharon and Phil. Mick is determined that Zack stay away from Nancy, and Isaac wants to get back to normality.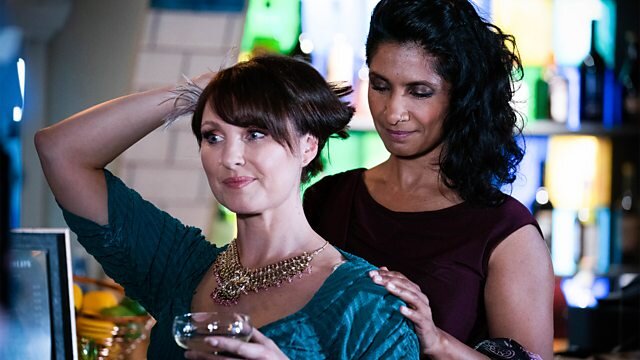 31/08/2021 37x139
01.09.2021
Nancy makes Zack a tempting offer. Having hurt Ash, Suki tries to make amends. Mick and Shirley get terrible news.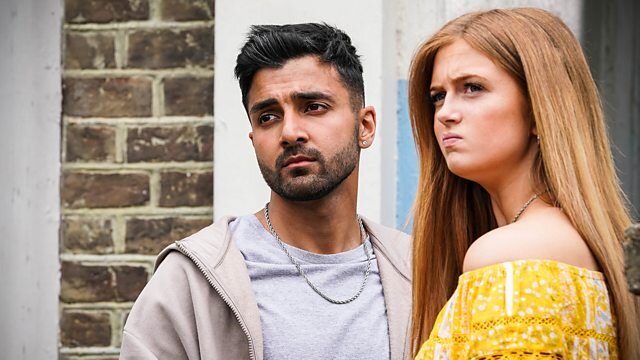 30/08/2021 37x138
31.08.2021
Gray's finances become a big problem, Sheree makes plans for herself, and Vinny and Tiff get back at Keegan.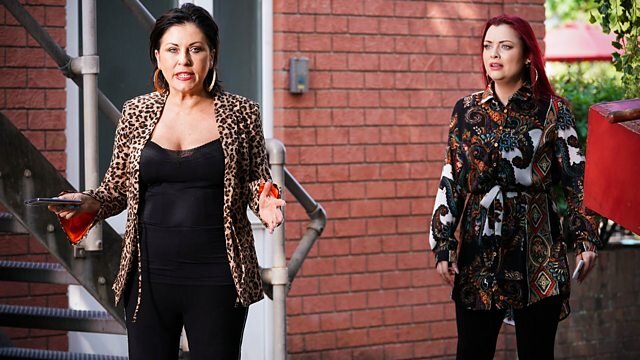 27/08/2021 37x137
28.08.2021
Kat finally finds out the truth. Ruby worries about Jean's return to Walford, and her efforts to distract Martin are futile.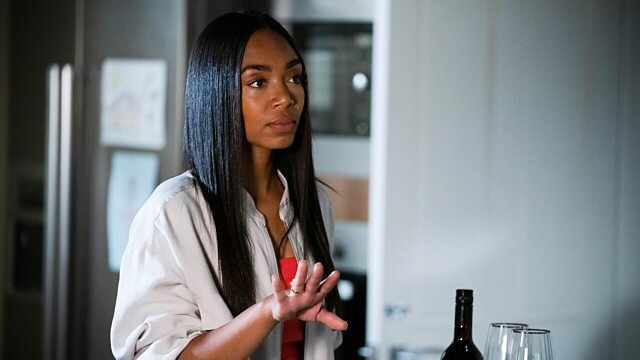 26/08/2021 37x136
27.08.2021
Chelsea buys some jewellery, completely unaware that it has a sinister connection to Gray, and Ruby delivers some shocking news to Martin.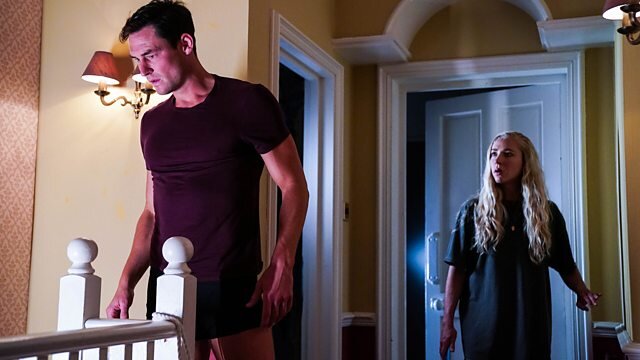 24/08/2021 37x135
25.08.2021
Keegan's plan to romance Tiffany turns sour, Chelsea plays with fire as she lines up a date with another man, and Zack comes to the rescue, much to Mick's annoyance.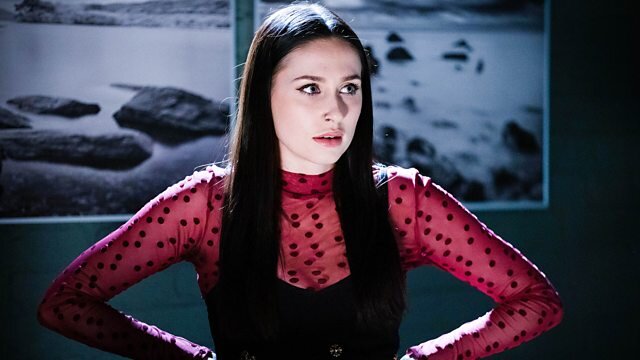 23/08/2021 37x134
24.08.2021
It's a big day for Vinny as he has a business pitch to make. Whitney battles her nerves, Kat is worried to hear some news about Tommy, and Kathy has a plan to make a certain someone jealous.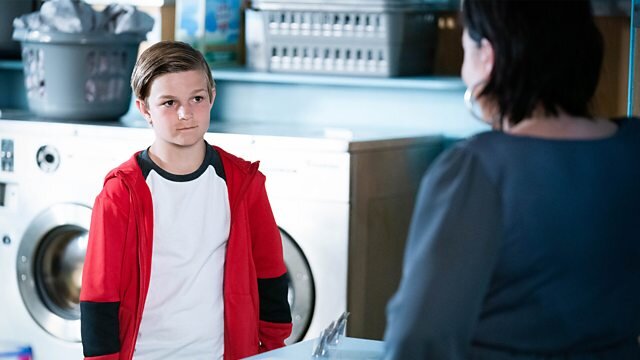 20/08/2021 37x133
21.08.2021
Lola has a decision to make when she realises people have meddled. Honey stands by Suki as Ash is unable to escape her past, and Kat anxiously awaits news of Tommy's football trial.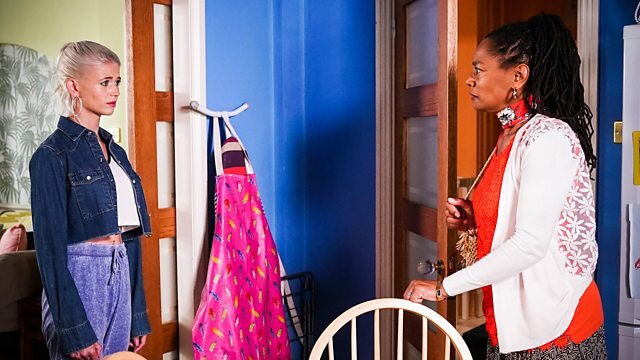 19/08/2021 37x132
20.08.2021
Suki struggles to hold her family together as Vinny gets an unexpected call. Kat frets over putting too much pressure on Tommy.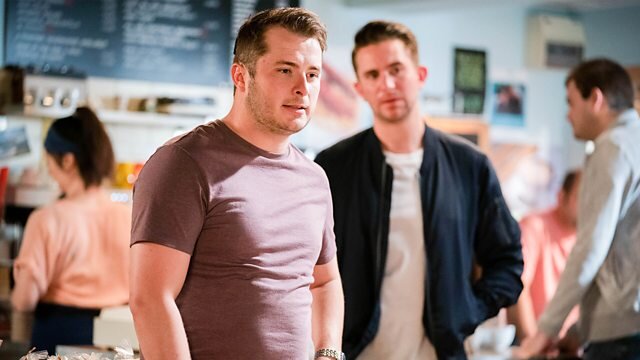 17/08/2021 37x131
18.08.2021
Callum worries for Ben, Honey offers to help Suki as Jay has some good news, and Sheree goes to extreme lengths to get her way.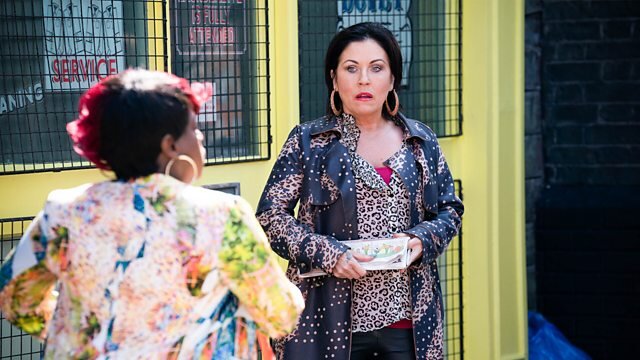 16/08/2021 37x130
17.08.2021
Isaac lets Sheree back into his life, Ben regrets his business decision, and Billy's jealousy puts him in competition with Jay.
13/08/2021 37x129
14.08.2021
Ben is made an offer, but Callum fears the risks. Isaac receives some wise words, and Iqra and Mila await a big decision.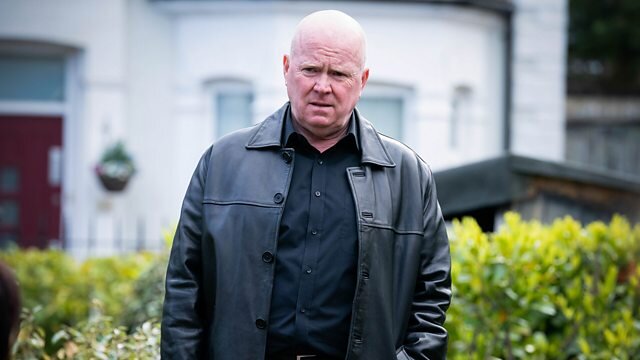 12/08/2021 37x128
13.08.2021
Iqra stands up for herself, Chelsea has an important decision to make, and Jean is stunned when she learns the truth.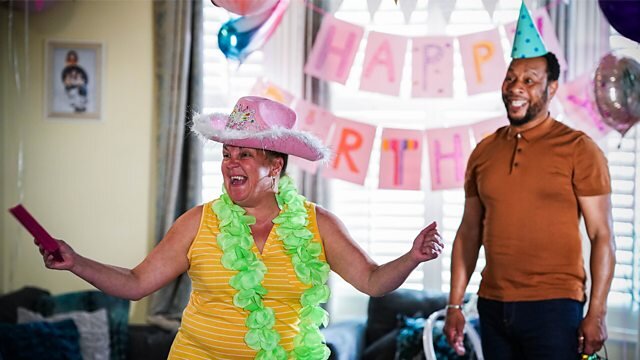 10/08/2021 37x127
11.08.2021
Rocky gets to work as Whitney's new manager. Karen can't keep her opinions to herself and gives Gray a piece of her mind. Ruby masks her guilt with good deeds.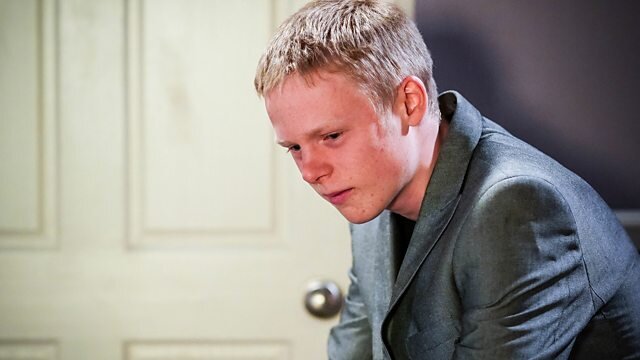 09/08/2021 37x126
10.08.2021
Harvey gets a shock when he learns the truth. Karen is not impressed with what she hears and puts her plans in motion. Keegan's guilt intensifies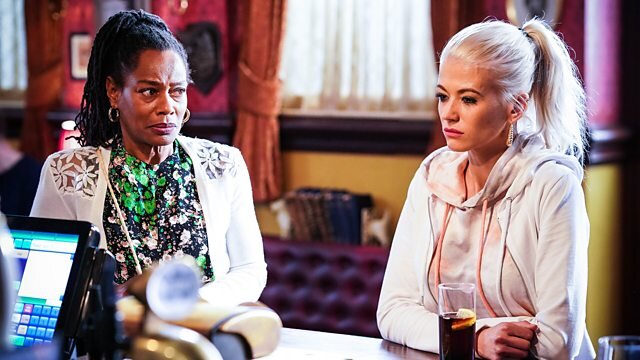 06/08/2021 37x125
07.08.2021
An ambulance is called as a life hangs in the balance. Lola opens up to Sheree, and Frankie's meddling goes to plan.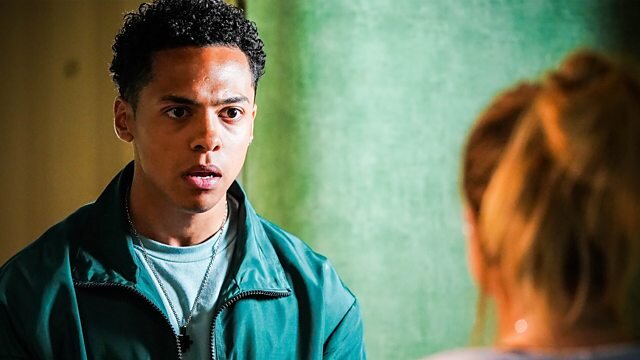 05/08/2021 37x124
06.08.2021
Vinny reveals his true feelings, Peter serves Lola some home truths, and Rocky sets up Whitney.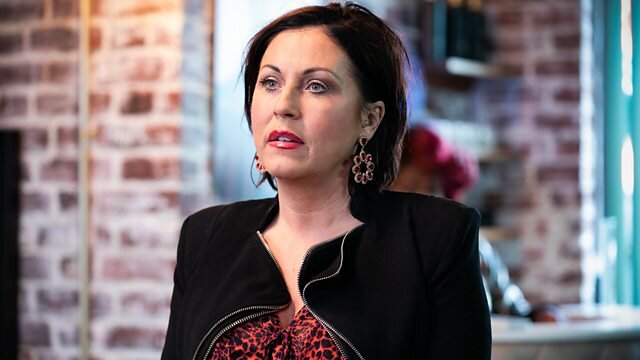 03/08/2021 37x123
04.08.2021
Bernie's revelation leaves Keegan fuming, Whitney's talent impresses Rocky, and Kat reaches out to Denise.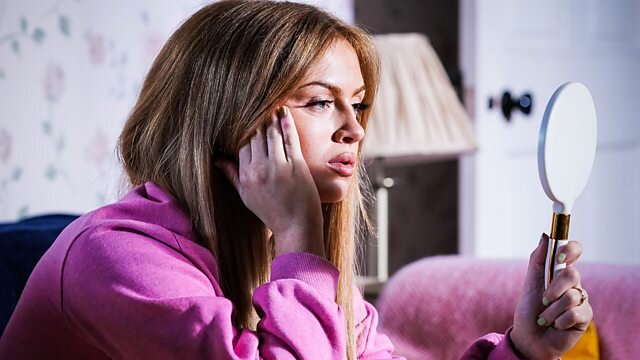 02/08/2021 37x122
03.08.2021
Kat has a plan to throw Billy a lifeline, Nancy and Frankie land themselves in trouble, and Rocky turns on the charm to help out Harvey.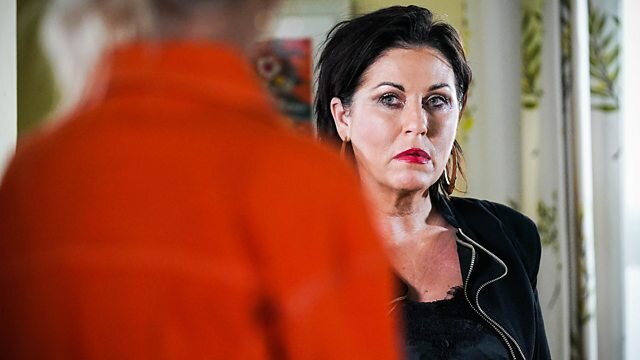 30/07/2021 37x121
31.07.2021
Martin feels let down by his wife as Ruby tries to right her wrongs. It's Tiffany's graduation party and she lets her insecurities take over. Kat hatches a plan to help someone in need.
29/07/2021 37x120
30.07.2021
Gray lets himself get led astray. Nancy feels betrayed. Billy's interested in a new job opportunity. Sheree is frustrated by Lola's indiscretion.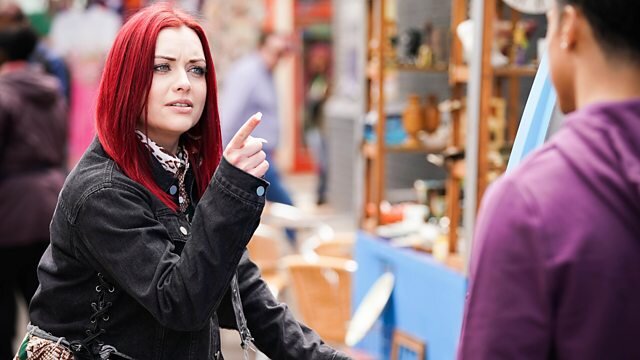 27/07/2021 37x119
28.07.2021
Ruby makes Jean an offer. Chelsea tries to prove Karen wrong. As Linda stands by Nancy, Frankie's guilt worsens.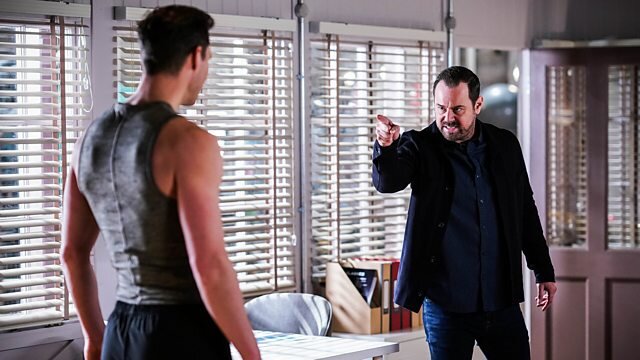 26/07/2021 37x118
27.07.2021
Mick finds out the truth and makes a decision. Karen has a plan to sort out a rift between her kids. Ruby leans on Jean for support instead of Martin.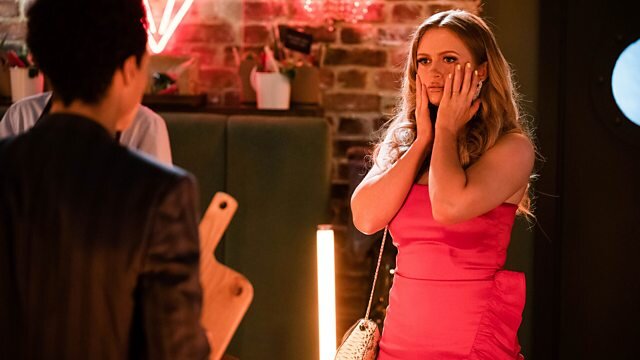 23/07/2021 37x117
24.07.2021
Tiffany's actions backfire and she is left mortified. Sonia plans to spend some quality time with her dad, and Zack has a decision to make.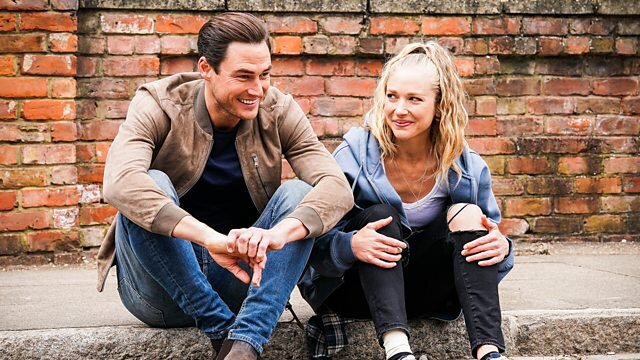 22/07/2021 37x116
23.07.2021
Frankie's nerves overcome her, Bobby gets a surprise and wonders if Dana has been honest, and Callum fears the worst when he learns the truth.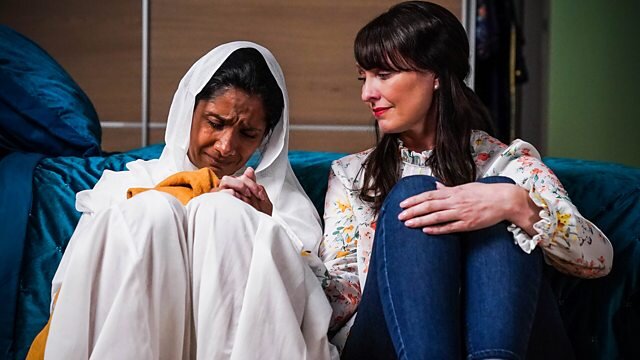 20/07/2021 37x115
21.07.2021
The Panesars try to stick together for Jags's funeral, and Callum fears for Ben.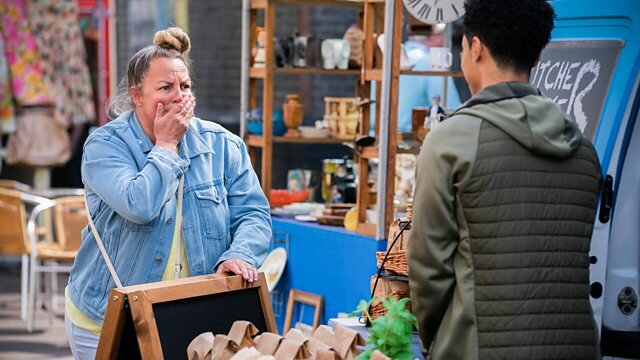 19/07/2021 37x114
20.07.2021
Callum becomes desperate when Ben refuses to listen to his pleas. Tiffany pushes Bernie to get an answer, and Lola comes to terms with her new reality.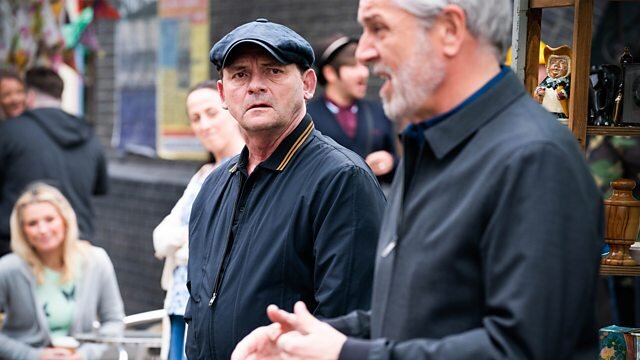 16/07/2021 37x113
17.07.2021
Billy and Rocky go head-to-head, Gray lashes out at his boss, and Kheerat is concerned for Suki.
15/07/2021 37x112
16.07.2021
Honey reaches out to a grief-stricken Suki. Chelsea and Gray cause havoc at his work function, and Sheree gives Lola a word of warning.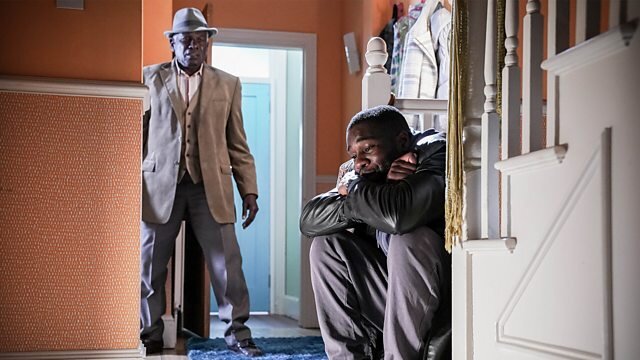 13/07/2021 37x111
14.07.2021
Patrick tries to get through to Isaac, Tommy's skills are tested at the football trial, and Chelsea lands herself in a sticky situation.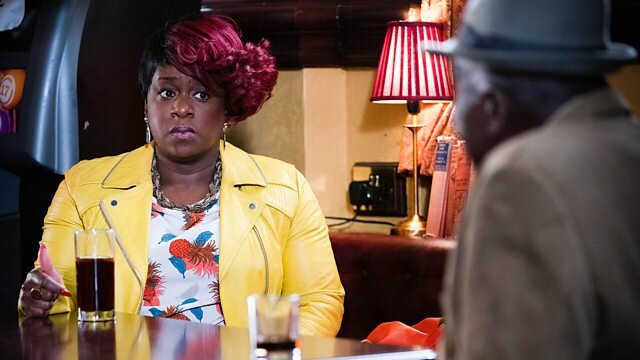 12/07/2021 37x110
13.07.2021
Kathy and Bobby are not impressed with Peter's behaviour, and Zack makes a bold gesture.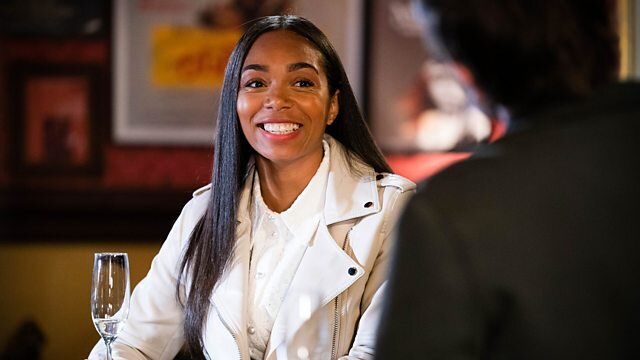 09/07/2021 37x109
10.07.2021
Against the backdrop of the Euros, the Vic gets a surprise visit. Ben gets some unexpected news as Bobby fights for Dana, and Gray makes a grand gesture.
08/07/2021 37x108
09.07.2021
Phil shows he means business, and Lola realises she needs to step up as Isaac returns home.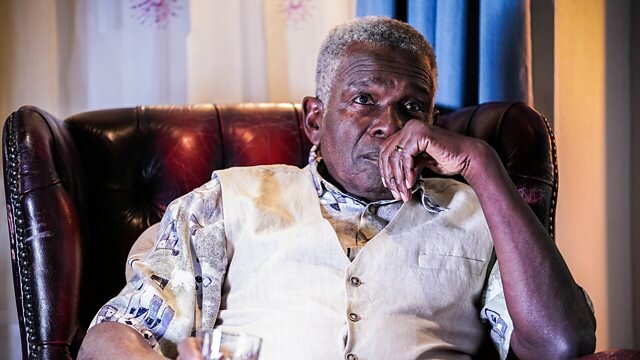 06/07/2021 37x107
07.07.2021
Zack panics as he realises the severity of his actions. Kat hopes Phil hasn't gone too far, and Rainie and Vi come to an agreement.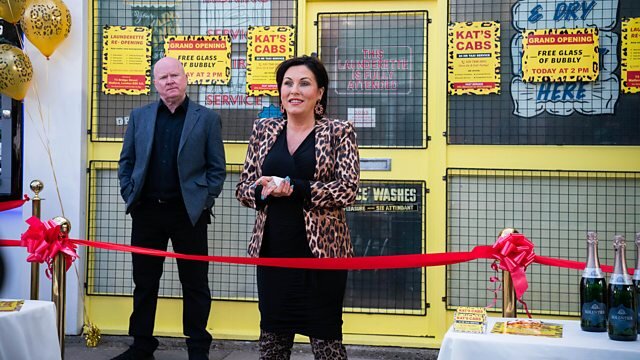 05/07/2021 37x106
06.07.2021
Zack's good deed has terrible consequences, Phil takes matters into his own hands, and Peter resolves to help Bobby.
01/07/2021 - Part 2 37x105
02.07.2021
Kat convinces Phil not to do something he'll regret. Tiffany worries for Bernie, and Chelsea sets her sights on Gray.
01/07/2021 - Part 1 37x104
02.07.2021
Frankie throws a party as Mick and Linda struggle with their secret.Ruby gets more news about her treatment, and Sonia encourages Kathy to make a move with Rocky.
28/06/2021 - Part 2 37x103
29.06.2021
Bernie begins to feel the pressure as Rainie and Stuart make their minds up. Isaac confronts Ruby, and Kathy tells Mila some surprising news.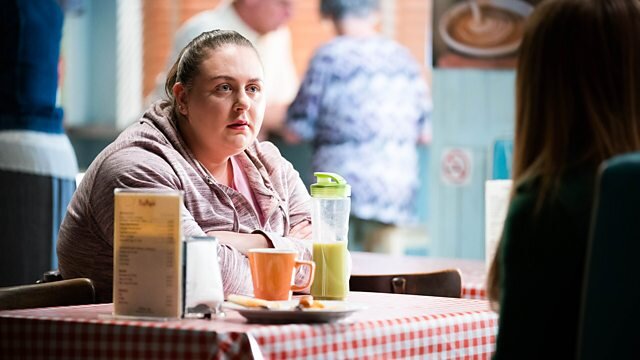 28/06/2021 - Part 1 37x102
29.06.2021
Dotty starts to regret her actions, Rocky's good deed doesn't go to plan, and Lola realises she has been wrong about Isaac.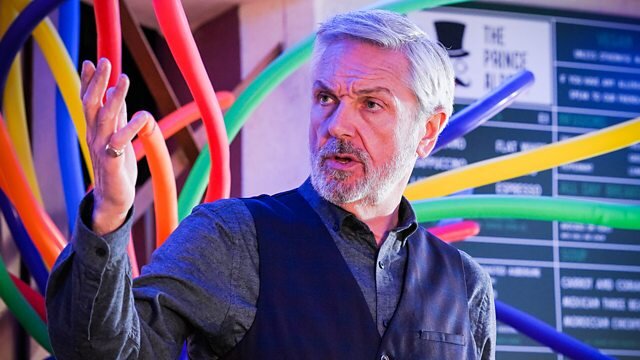 25/06/2021 37x101
26.06.2021
Iqra decides to comes clean, and Vinny hits rock bottom.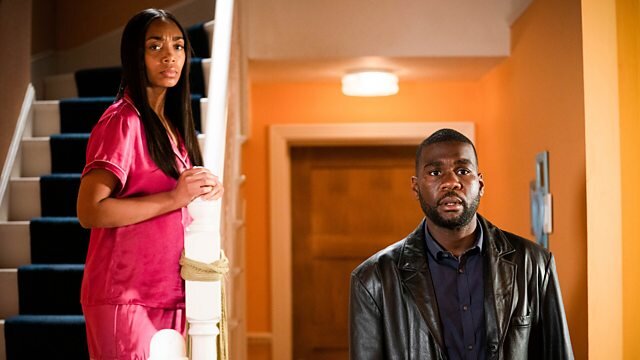 24/06/2021 - Part 2 37x100
25.06.2021
Chelsea lands herself in hot water, Isaac's obsession continues to build, and Ben opens up to Callum.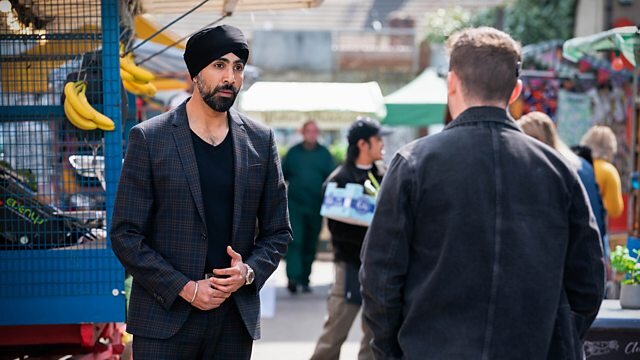 24/06/2021 - Part 1 37x99
25.06.2021
Suki receives some shocking news, Bobby decides to face the truth, and Ruby and Martin suffer another setback.
22/06/2021 37x98
23.06.2021
Ben sees red when faced with another betrayal, Rocky's behaviour leaves Sonia suspicious, and Bobby and Dana take a big step in their relationship.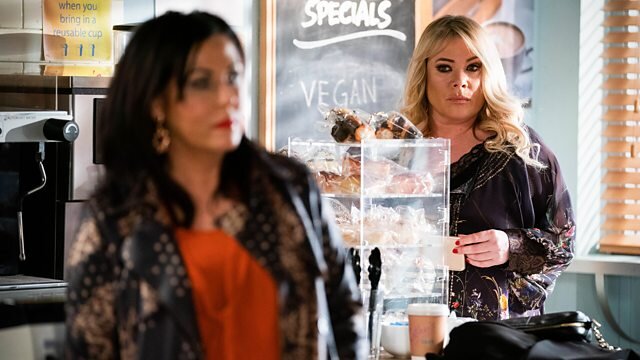 16/06/2021 - Part 2 37x97
17.06.2021
Sharon's comments leave Kat feeling uncertain. Tiffany tries to cover her mistake, Rocky pulls out all the stops for Sonia, and Ben makes a discovery.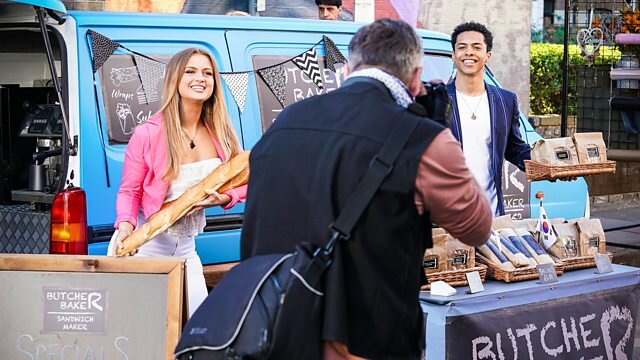 16/06/2021 - Part 1 37x96
17.06.2021
Sonia lets her guard down as Nancy and Frankie meddle in Shirley's love life. Tiffany's insecurities cause her to make a snap decision. Callum feels helpless, and Jean has some advice for Ruby, who feels like giving up.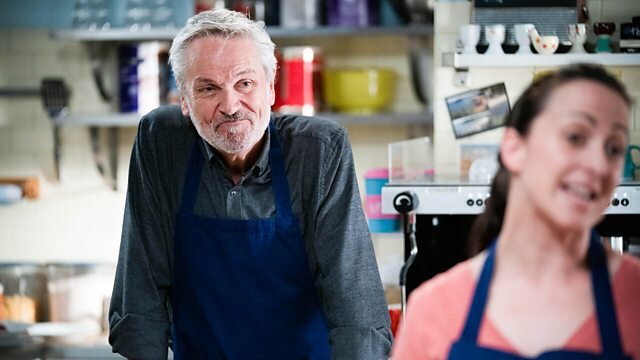 15/06/2021 - Part 2 37x95
16.06.2021
Ruby tells Martin she has made her mind up, Mick and Linda have a choice to make, and Keegan's good news leaves Tiffany feeling disheartened.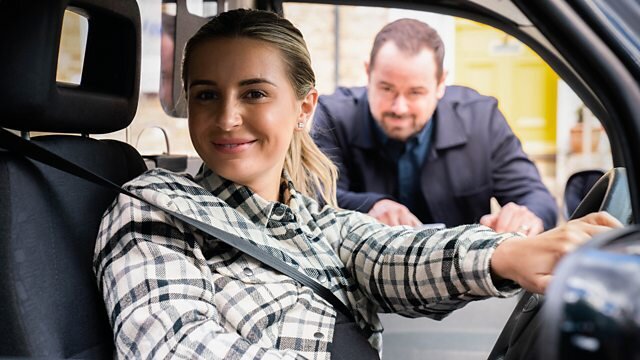 15/06/2021 - Part 1 37x94
16.06.2021
Mick's misfortune leaves Linda feeling abandoned. Ruby and Lily make a breakthrough, Bernie is left disappointed, and Rocky vows to help Sonia.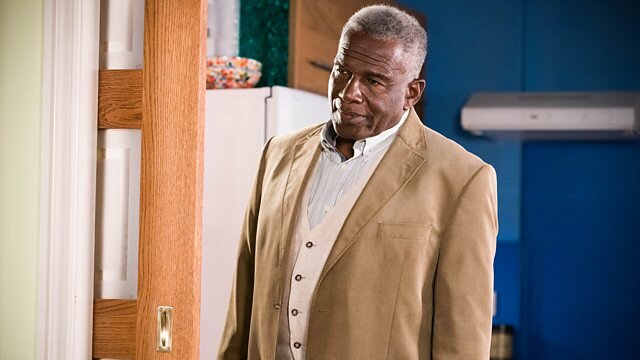 10/06/2021 37x93
11.06.2021
Jack has bad news for Stuart and Rainie. Bobby impresses Dana with Zack's help, Isaac's suspicion firmly takes hold, and Callum digs himself deeper as Ben makes a discovery.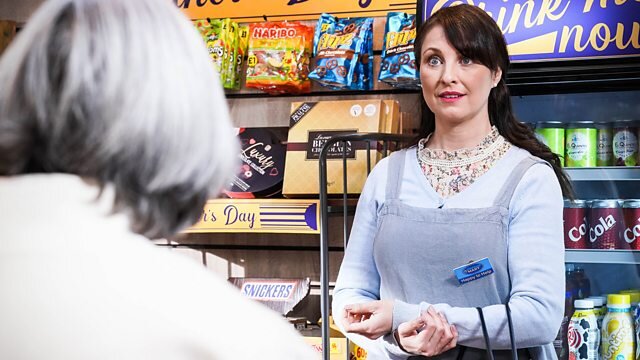 08/06/2021 - Part 2 37x92
09.06.2021
Lola is worried when Isaac tells a lie, Callum confides in the wrong person, Bernie starts to feel the pressure, and Linda knows that the truth will soon be out.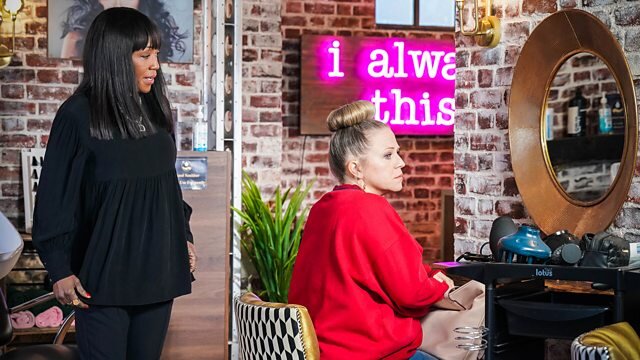 08/06/2021 - Part 1 37x91
09.06.2021
Callum can't open up to Ben, Kat comes up with a business idea, and Vi meddles in the Highway marriage.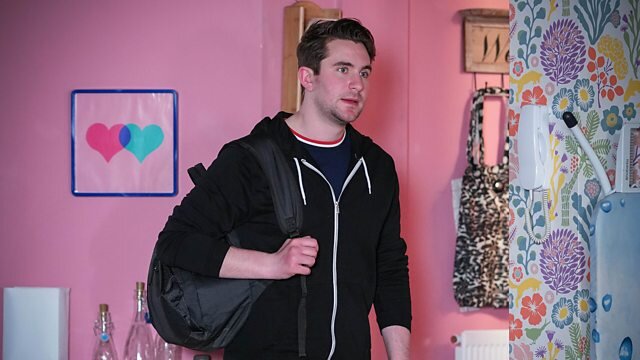 07/06/2021 37x90
08.06.2021
Callum's attempt to prove himself ends in ruin, Ruby goes head to head with Lily, and Rainie and Vi clash as Phil makes Kat an unexpected offer.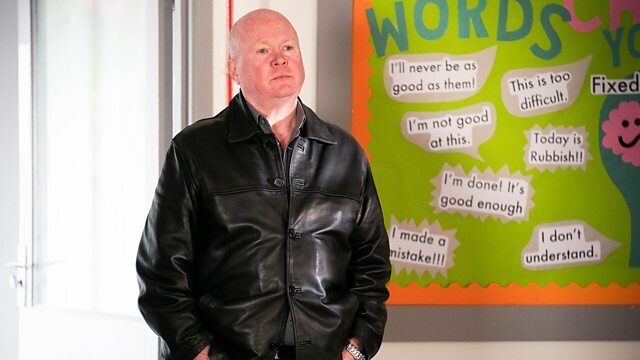 04/06/2021 37x89
05.06.2021
Callum's work leaves Ben feeling uneasy, and Kat finds herself in a frightening situation.
03/06/2021 37x88
04.06.2021
Mo's big revelation leaves Jean shocked, Phil is touched to be invited to a special event for Bert and Ernie, and Iqra's good deed backfires leaving her guilt-ridden.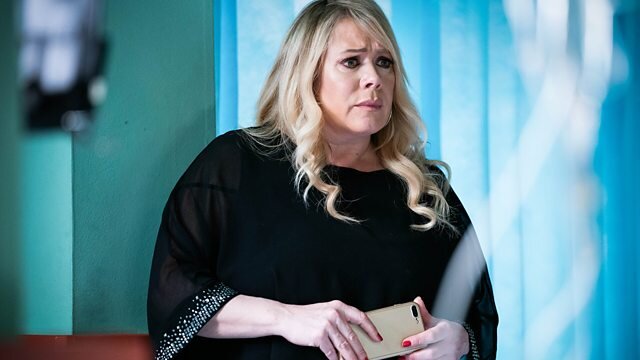 01/06/2021 37x87
02.06.2021
Sharon is shocked to hear Linda's secret, Jean convinces Mo to take a chance, and Ben agrees to help Kheerat and his family.
31/05/2021 37x86
01.06.2021
There's an incident at the gym when Linda pushes herself too hard. Iqra supports Mila as she stands up for what she believes, and Kheerat must make a change to keep on Ben's good side.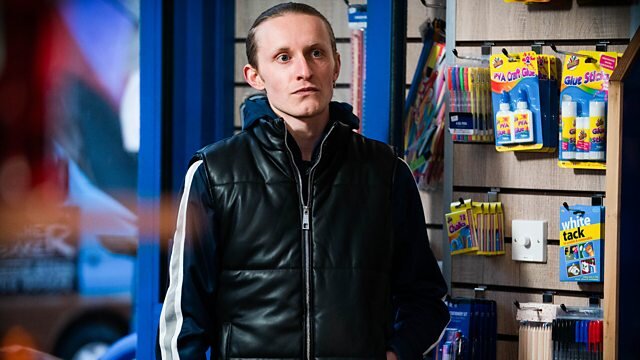 28/05/2021 37x85
29.05.2021
Suki acts out of desperation, Kim and Chelsea team up, and Iqra feels lost in love.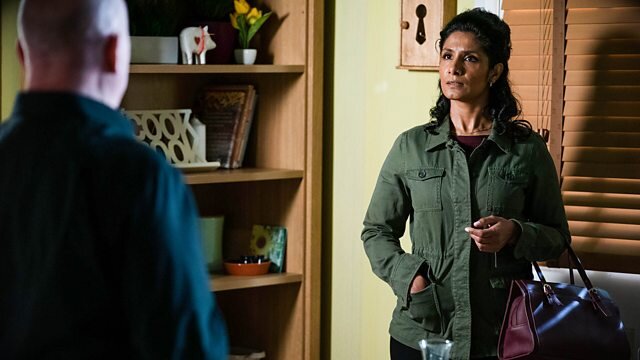 27/05/2021 37x84
28.05.2021
Iqra feels rejected, while Suki takes her torment out on Kheerat. Kim has a new man, but all is not as it seems, and Sonia is given some advice about her dad.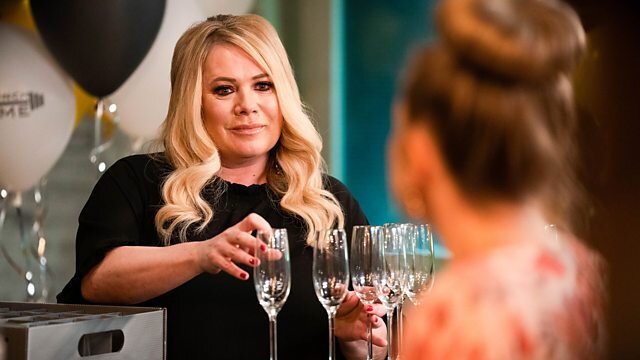 25/05/2021 37x83
26.05.2021
It's time for Sharon and Linda to take each other's advice. Kim enjoys the perks of the job.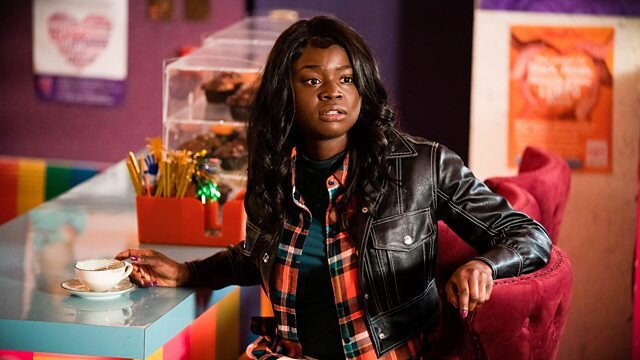 24/05/2021 37x82
25.05.2021
Kheerat takes things a step too far with Zack, Shirley offers Frankie her support, and Ruby feels let down by Martin.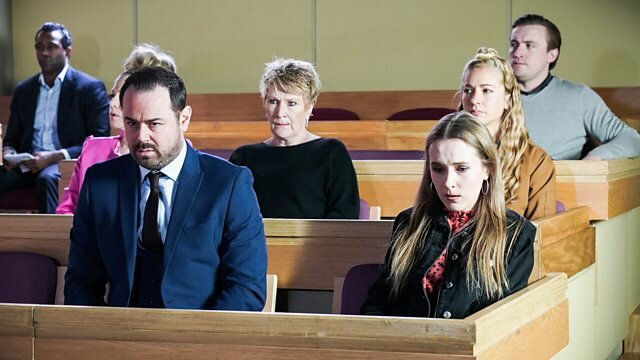 21/05/2021 37x81
22.05.2021
It's a huge day for the Carters in court. Dotty won't let Sonia take the easy way out. Martin manages to turn things around.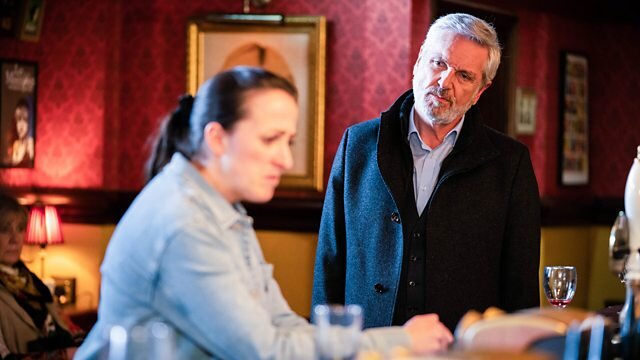 20/05/2021 37x80
21.05.2021
A vulnerable Sonia stands her ground. Isaac plays a dangerous game. Martin goes a step too far.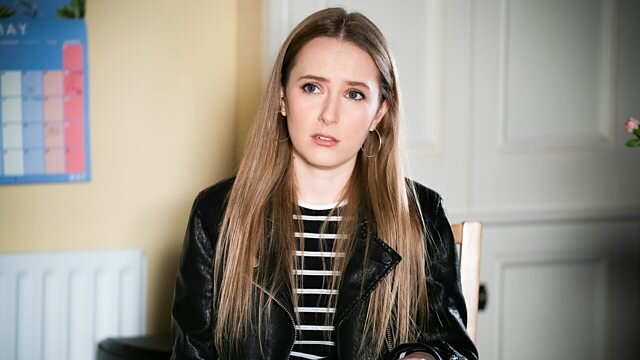 18/05/2021 37x79
19.05.2021
Sonia puts Dotty in her place and gets an unexpected surprise. Frankie has a tough decision to make. Bernie refuses to give up. Lily stirs things up for Martin and Ruby.
17/05/2021 37x78
18.05.2021
Bernie is knocked back. Mick is given courage. Martin is jealous of Ruby's new recruit. Dotty badmouths Sonia to Tiffany as Sonia hears it all.
14/05/2021 37x77
15.05.2021
Gray sees red as his plan unravels, and Karen reaches breaking point when she receives hate mail. Nancy has a scare whilst babysitting Albie.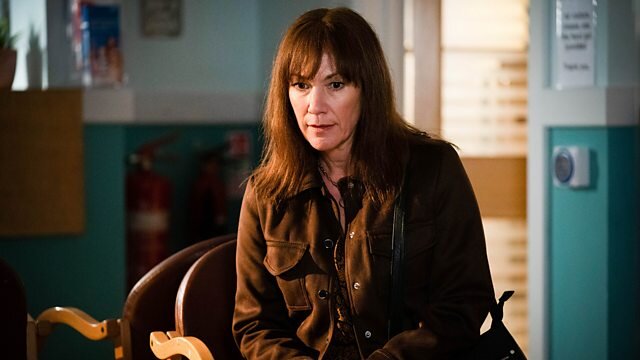 13/05/2021 37x76
14.05.2021
Things heat up between Sharon and Kheerat, and Bernie doesn't get the news she was hoping for.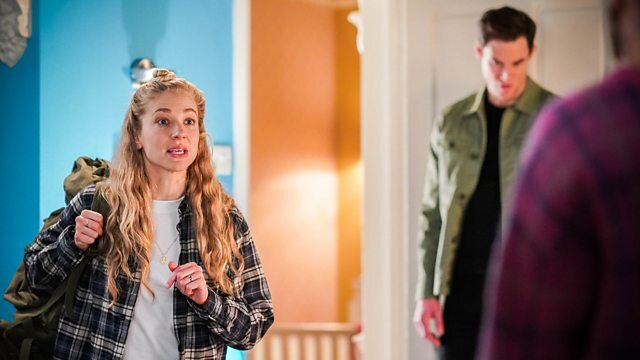 11/05/2021 37x75
12.05.2021
Whitney takes matters into her own hands, Nancy gives Mick and Linda an ultimatum, and Mitch receives a call that changes everything.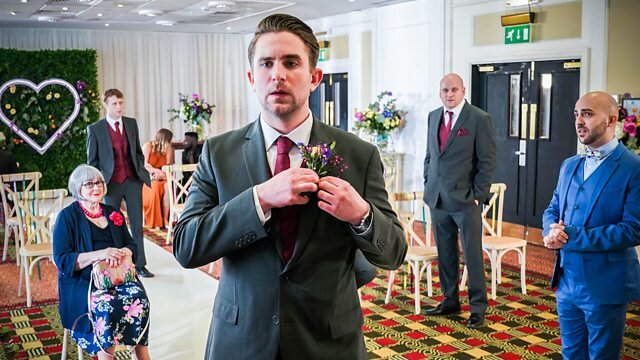 10/05/2021 37x74
11.05.2021
Callum's pre-wedding jitters are at an all-time high, and Zack's big gesture lands him in trouble.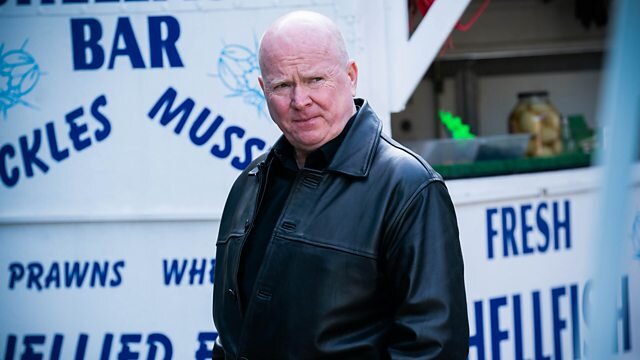 07/05/2021 37x73
08.05.2021
Denise realises that actions speak louder than words, Kat rescues Phil from Vi, and Bobby comes clean and Peter offers advice.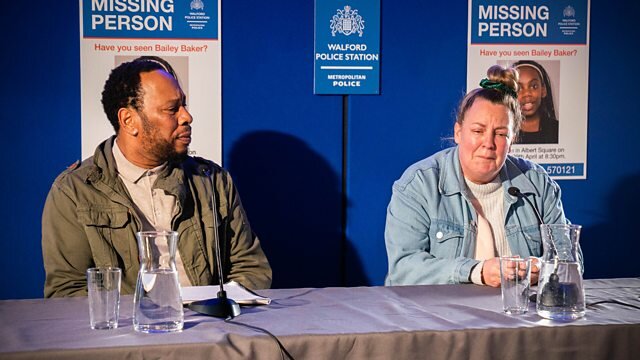 06/05/2021 37x72
07.05.2021
Karen's fears get the better of her, Mick has a decision to make, and Dotty disapproves of Sonia's gesture.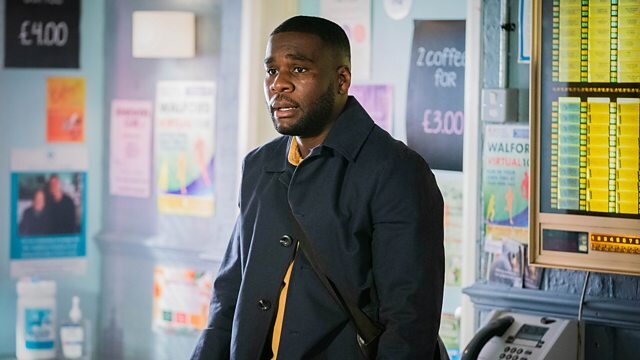 04/05/2021 37x71
05.05.2021
Linda tries to take control of Nancy, Lola worries for Isaac as he drops a bombshell, and Vi insists that Walford is growing on her.
03/05/2021 37x70
04.05.2021
Callum's suspicions of Ben worsen, Mitch and Karen feel accused, Linda can't help but get involved, and Bobby turns to the Foxcatcher for help.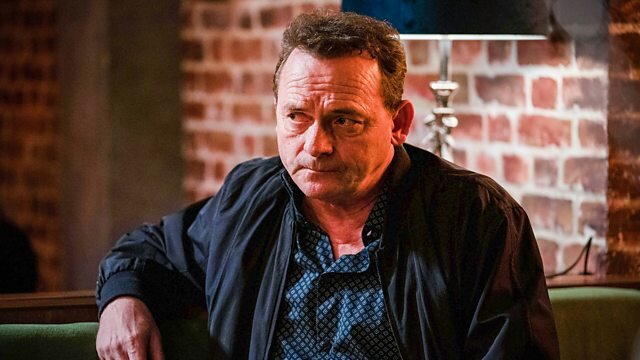 30/04/2021 37x69
01.05.2021
Mitch makes a shocking discovery, Vinny has a few home truths for Callum, and Billy makes a stand.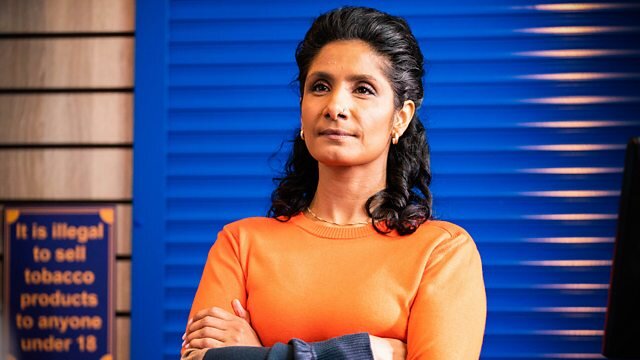 29/04/2021 37x68
30.04.2021
Callum and Ben receive some bad news, Nancy finally admits the truth, and Bailey makes a big decision.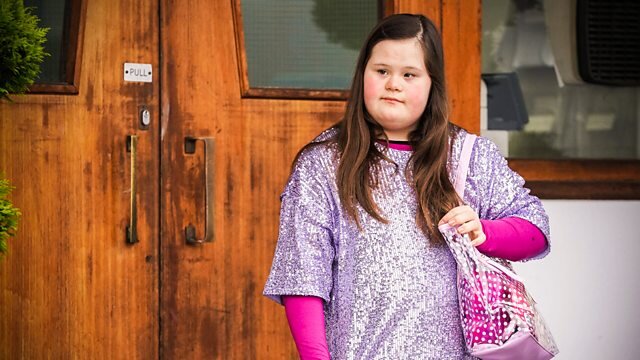 27/04/2021 37x67
28.04.2021
Honey senses something is not right, Linda is sure Nancy isn't being truthful, and Karen is trying to keep it all together.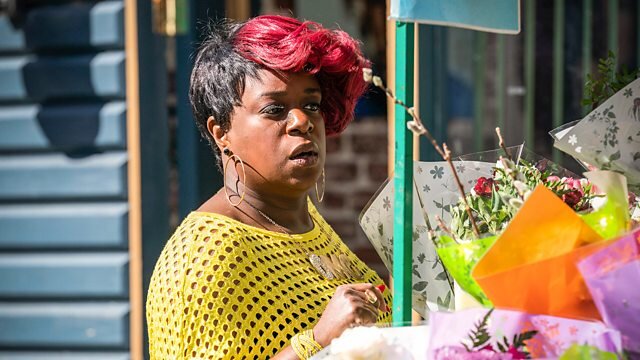 26/04/2021 37x66
27.04.2021
Money becomes tight for Mitch and Karen, Kim's matchmaking has no boundaries, and Zack takes a liking to Nancy.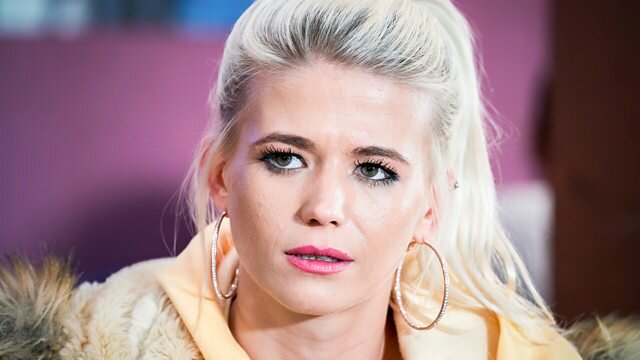 23/04/2021 37x65
24.04.2021
Bernie makes a huge decision, Nancy struggles to look after Ollie and Isaac takes matters into his own hands.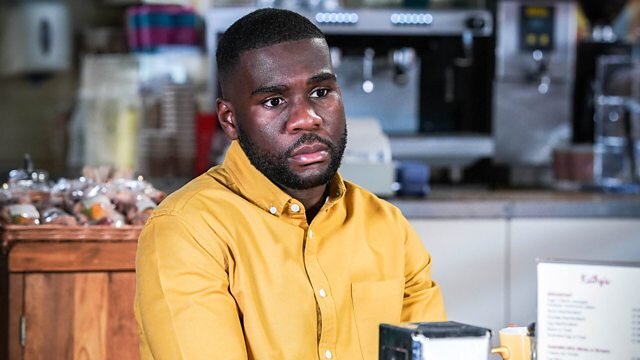 22/04/2021 37x64
23.04.2021
Isaac opens up to his dad, Rainie and Stuart refuse to give up on their dream, and Will lashes out at school.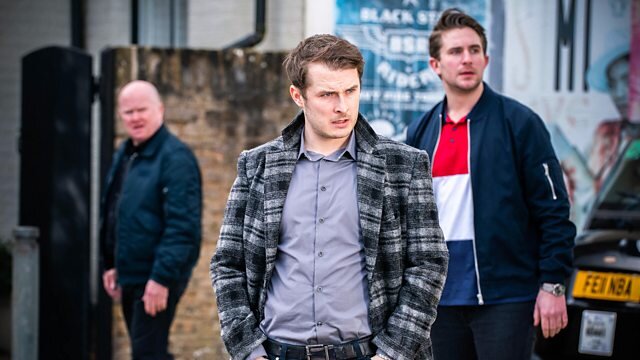 20/04/2021 37x63
21.04.2021
Isaac learns some family secrets that make him question things. Mick is curious about Nancy, who seems to be hiding something. Bernie gets a date, thanks to Banjo.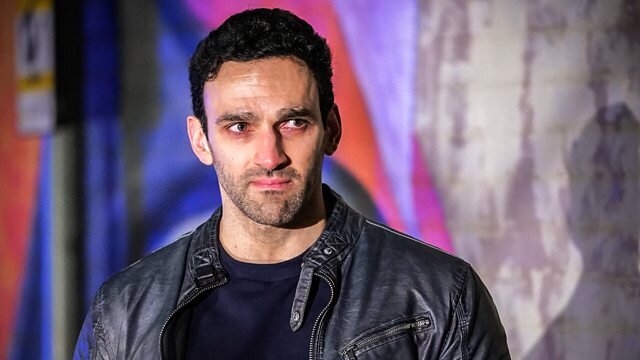 19/04/2021 37x62
20.04.2021
Kush and Whitney stay hopeful for their future, Sonia is not happy to learn what's been going on while she was away, and Nancy and Frankie break the ice.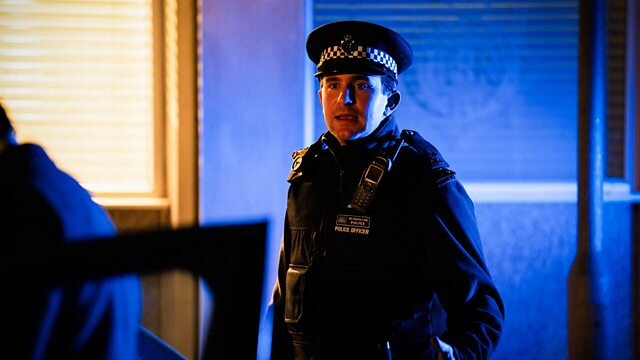 16/04/2021 37x61
17.04.2021
A big blunder leaves Tiffany in hot water, Gray fumbles at his own game, and Martin faces a big decision.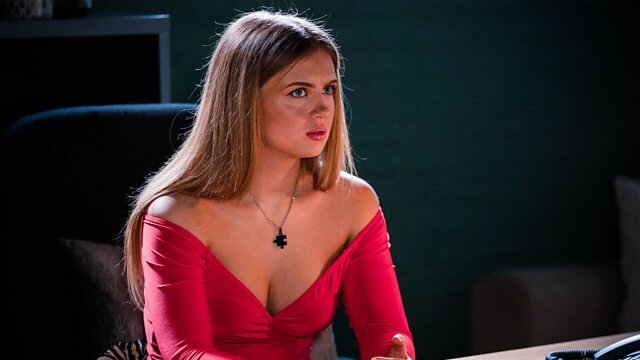 15/04/2021 37x60
16.04.2021
It's time for Kush to face the music, Isaac hides his true feelings from Sheree and Patrick, and Ruby wants in on the action.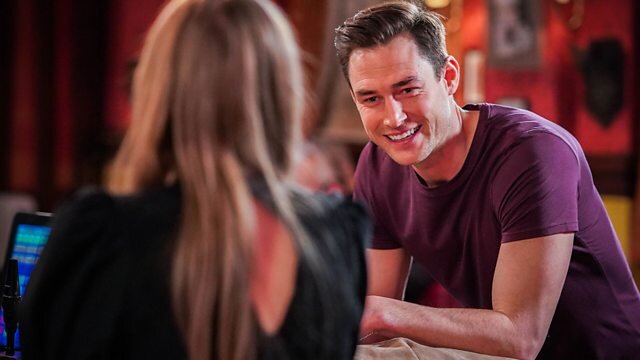 13/04/2021 37x59
14.04.2021
An unexpected guest at Frankie's birthday surprises everyone, and a mistake on social media puts the spotlight on Keegan.
12/04/2021 - Part 2 37x58
13.04.2021
Kush has a huge surprise for Whitney, and Karen faces an unusual proposition. It's a proud day for Keegan, but what is Tiffany hiding? 
12/04/2021 - Part 1 37x57
13.04.2021
Kush knows what he wants, Kat lets her conscience guide her, and Karen is let down on the worst day as Gray throws money at his guilt. Isaac gets frustrated at not being heard.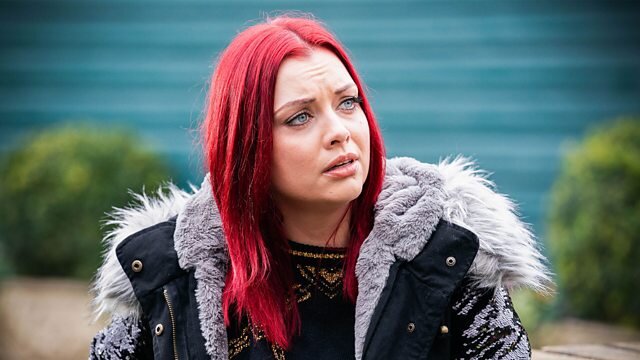 08/04/2021 37x56
09.04.2021
Gavin leaves Sharon something unexpected in his will. Kat considers going public with Phil, Kush feels crushed as Whitney's determination grows stronger, and Bernie's sacrifice doesn't end well.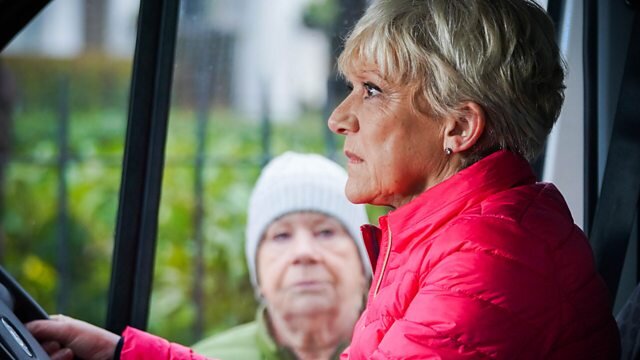 06/04/2021 37x55
07.04.2021
Sharon gets an unwelcomed surprise as Jean interferes, Lola has a decision to make, and Bernadette is forced to go against her better judgement.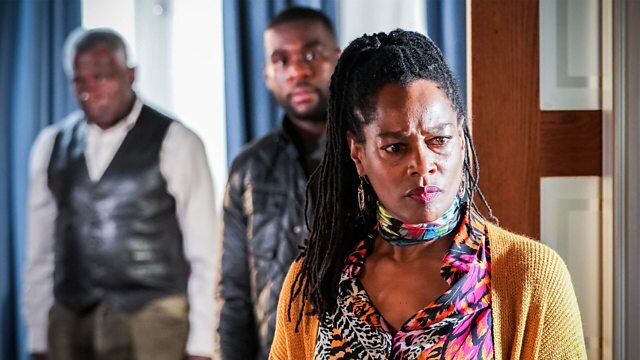 05/04/2021 37x54
06.04.2021
Jean's desperation lands her in hot water, Lily does her best to get under Ruby's skin, and Sheree and Isaac clash over what's best for Patrick.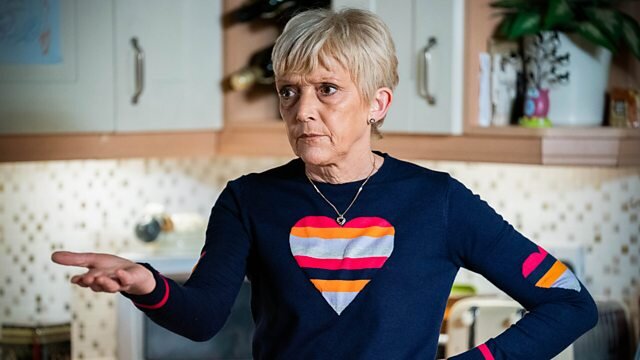 02/04/2021 37x53
03.04.2021
Ben tries to scupper Sharon's plan, Callum's wedding plans leave Phil feeling awkward, and Lily's scheming comes into action.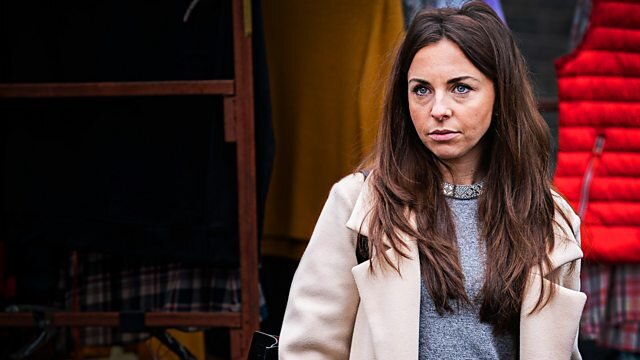 01/04/2021 37x52
02.04.2021
Jean desperately tries to keep the family together, Bobby's new persona comes into full effect, and Mick's reservations about Katy are confirmed.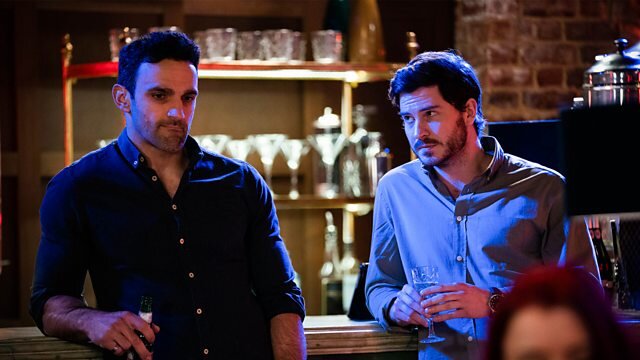 30/03/2021 37x51
31.03.2021
Lily has a plan to try to help her mum, Sharon decides it's time for new ventures, and Mick makes a stand for his daughter.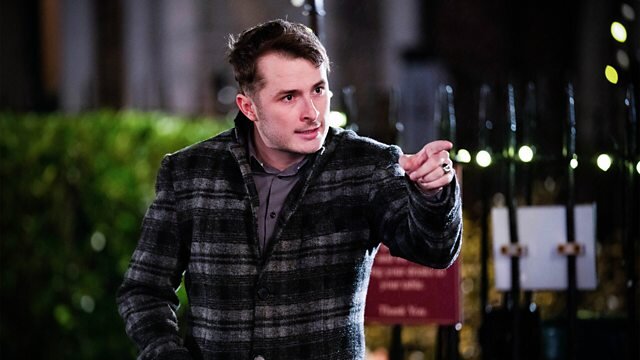 29/03/2021 37x50
30.03.2021
Whitney makes a big gesture, and Mick bonds with Frankie in true Carter style. Vinny starts to make his mark in the Panesar family, but not everyone is happy.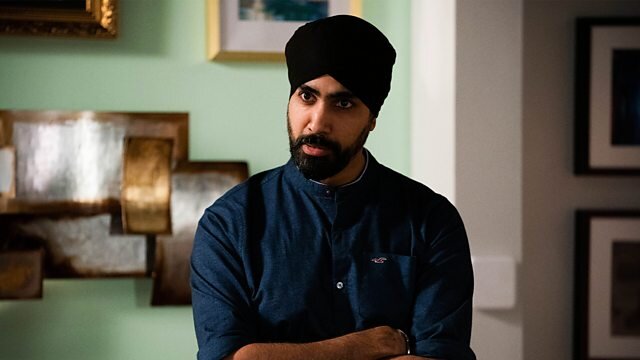 25/03/2021 - Part 2 37x49
26.03.2021
Vinny has a chance to prove himself, Stacey makes a big decision, and Kush's romantic gesture causes trouble for Whitney.
25/03/2021 - Part 1 37x48
26.03.2021
Gray faces unexpected ramifications for his actions, and there's more heartbreaking news for Ruby. 
23/03/2021 37x47
24.03.2021
Frankie finds herself in a dangerous position, and Suki's tough exterior cracks when faced with the past.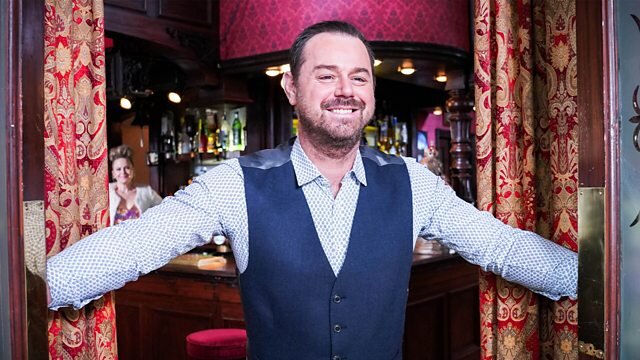 22/03/2021 37x46
23.03.2021
Mick and Linda are back behind the bar at the Queen Vic, and Jean takes drastic measures for her family.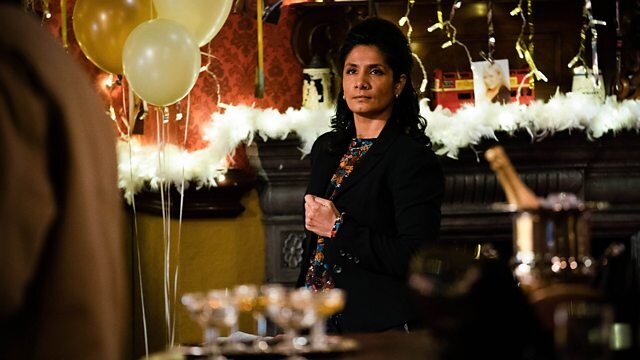 18/03/2021 37x45
19.03.2021
It's decision day for Ash as Suki has one more trick up her sleeve. Kim has a perfect plan to mix business and pleasure; what could possibly go wrong? Mitch realises his efforts were in vain as he tries to do the right thing.
16/03/2021 - Part 2 37x44
17.03.2021
Sharon contemplates her future as Kathy offers some words of advice. Mitch and Stuart come to the rescue. Peter vows to step up.
16/03/2021 - Part 1 37x43
17.03.2021
Sharon gets more than she bargained for. Mitch feels he is letting his family down. Ash gets a reality check.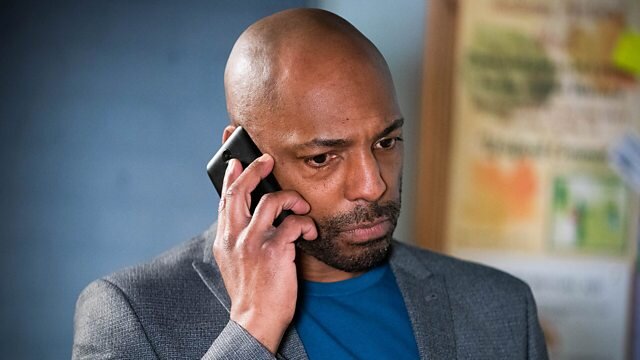 15/03/2021 37x42
16.03.2021
Lucas vows to teach Chelsea a lesson. The Taylor family say a tough goodbye. Ash's lies catch up with her. And Kathy gets a surprising phone call.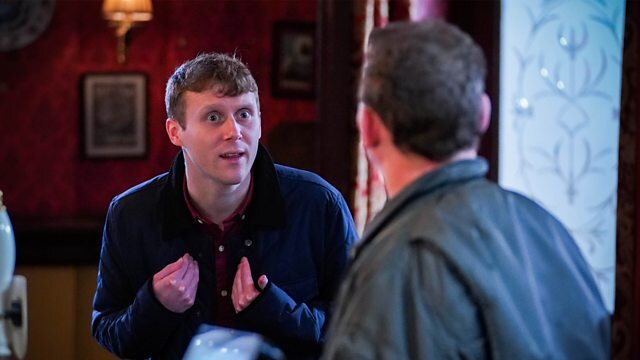 12/03/2021 37x41
13.03.2021
Lucas's concerns for Chelsea worsen, the odds are stacked against Stacey, and the Taylors suffer another blow. 
11/03/2021 37x40
12.03.2021
Karen has a date, but all is not as it seems. Honey plots to get Billy and Jay to put their differences aside, and Bobby learns a lesson the hard way.
09/03/2021 37x39
10.03.2021
Ruby takes drastic action, Kim chalks up another success, and Lucas attempts to find some normality.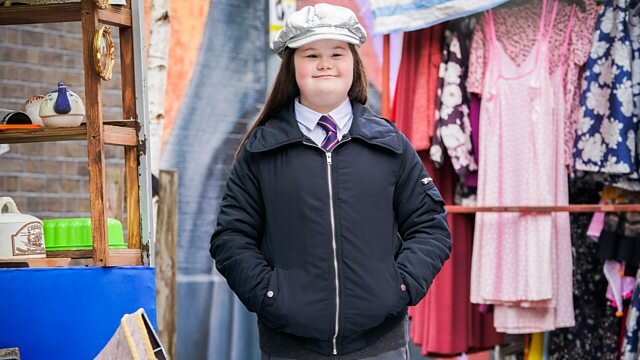 08/03/2021 37x38
09.03.2021
Martin takes extreme steps to help Ruby, Lucas makes a discovery, and Janet gets an unexpected opportunity.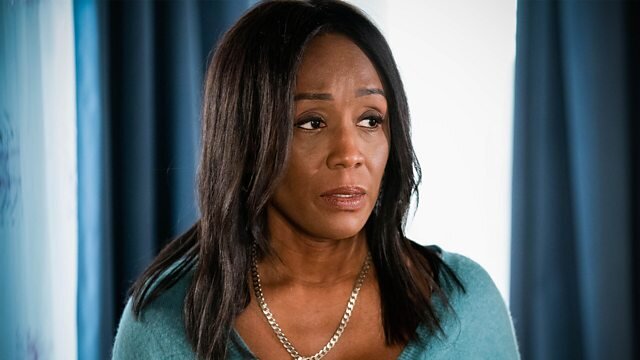 05/03/2021 37x37
06.03.2021
Whitney drops a bombshell, Chelsea carries out a desperate act to save herself, and Mick is ready to open up.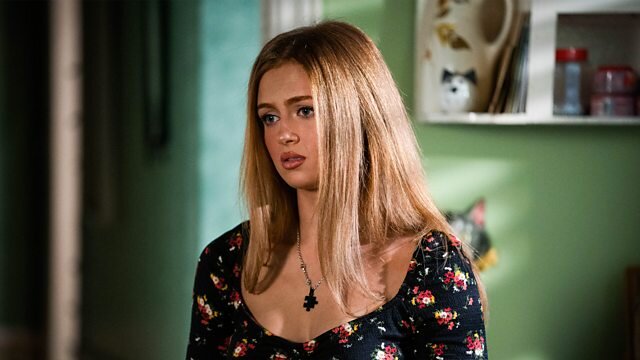 04/03/2021 37x36
05.03.2021
Kim helps Kat find love, and Keegan isn't happy to hear about Tiffany and Dotty's big plan.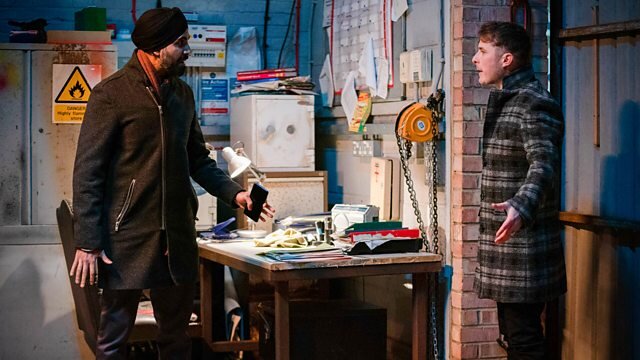 02/03/2021 37x35
03.03.2021
Martin reaches boiling point, and Vinny finds himself in a sticky situation.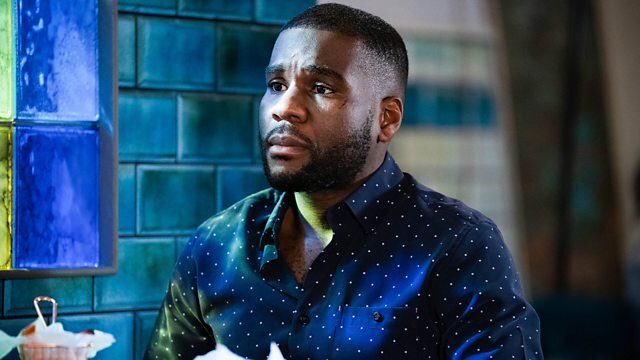 01/03/2021 37x34
02.03.2021
Isaac builds up the courage to reveal the truth, Stacey is feeling remorseful, and Gray lashes out at Whitney.
26/02/2021 37x33
27.02.2021
Stacey is unable to contain her frustrations and an argument ensues. Kheerat finds himself out of his depth. Despite a set-back, Kim continues with her new business 
25/02/2021 37x32
26.02.2021
Martin gives Ruby some good news, but Stacey isn't happy. Fed up of Sheree taking control, Isaac stands up for himself. Dotty has an idea to make some cash.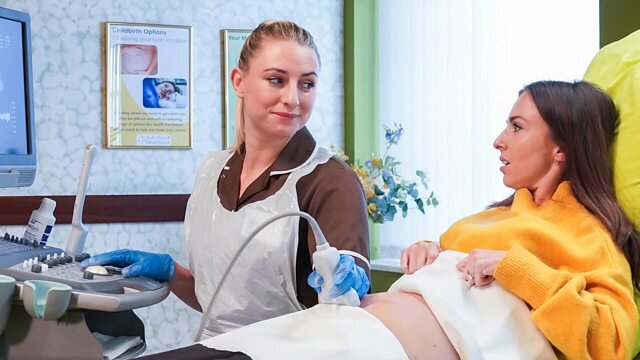 23/02/2021 37x31
24.02.2021
Sharon puts her heart on the line, Ruby panics when Martin starts asking questions, and an overprotective Sheree issues a warning.
22/02/2021 37x30
23.02.2021
Kat steps up for Phil, Kathy suggests a brothers night out for Peter and Bobby, and Isaac is set up on a date, but things don't go as planned. 
19/02/2021 37x29
20.02.2021
Max makes a life-changing decision, and Stacey is on a mission to prove Ruby's lies.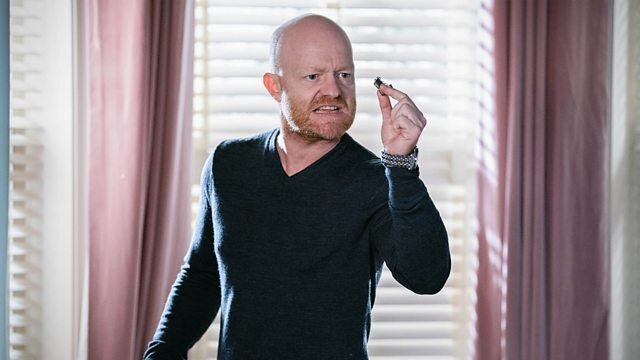 18/02/2021 37x28
19.02.2021
With the evidence stacked against him, Phil is running out of options.Martin doesn't know what to believe, so seeks advice from Kush.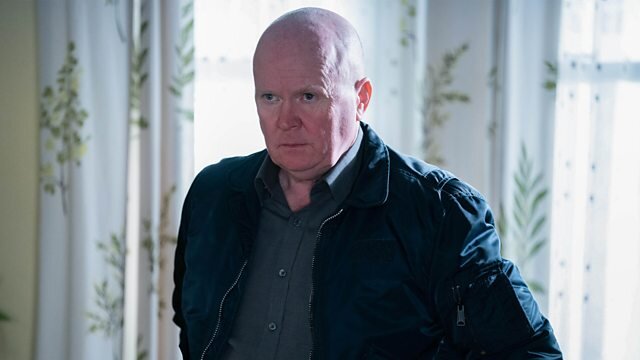 16/02/2021 37x27
17.02.2021
Peter puts on a show for the square, and Max is determined to get Linda back at any cost.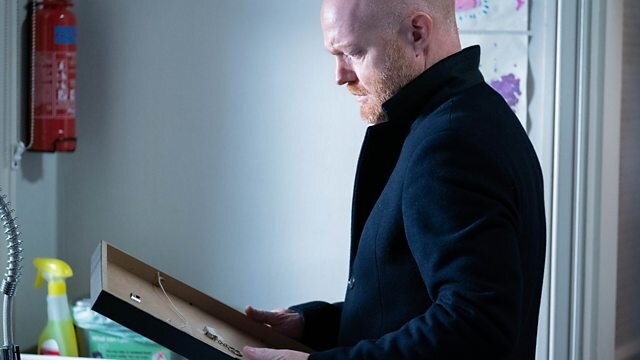 15/02/2021 37x26
16.02.2021
Max offers an olive branch to Linda, and Ash drowns her sorrows with Peter.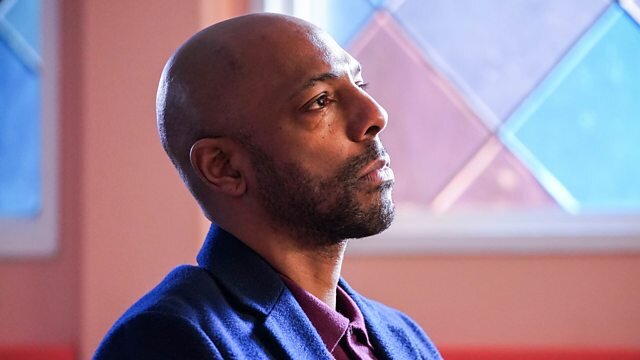 12/02/2021 - Part 2 37x25
13.02.2021
Whitney gets a Valentine's Day kiss, Keegan is determined to make a change, and Phil looks out for Sharon on a tough day.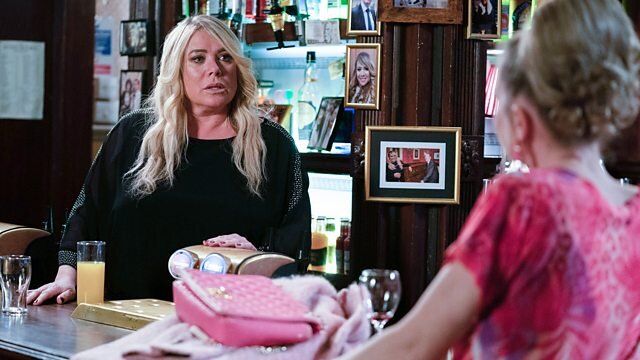 12/02/2021 - Part 1 37x24
13.02.2021
Kathy takes action against Sharon, and the truth comes out for Chelsea and Lucas.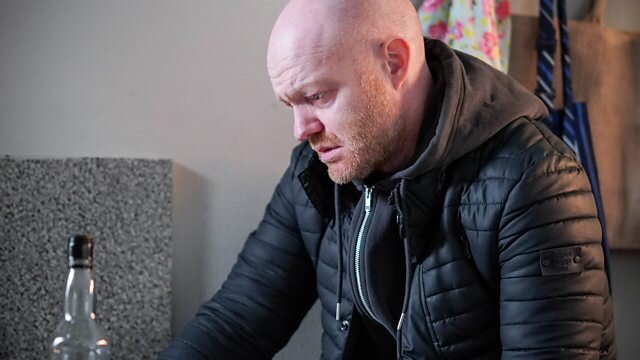 10/02/2021 37x23
11.02.2021
Struggling to cope, Max reaches out to an unlikely source. A desperate Shirley and Mick take matters into their own hands.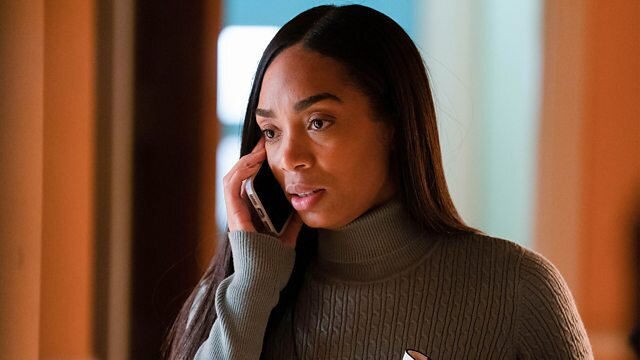 08/02/2021 37x22
09.02.2021
Chelsea fears the worst, and Big Mo lands a new job.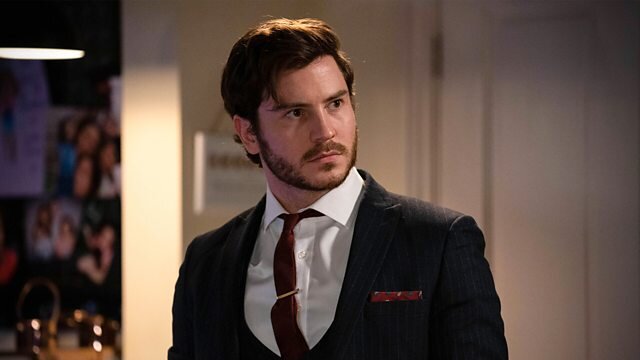 05/02/2021 37x21
06.02.2021
Jack fears for Denise, Gray battles to keep his secrets hidden, and Billy struggles with his new venture. Ruby is desperate and uses an opportunity to her advantage.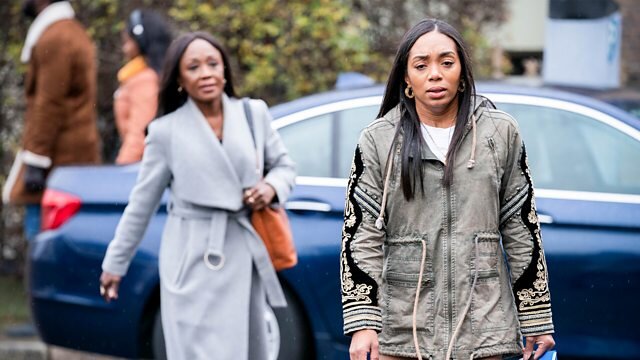 04/02/2021 37x20
05.02.2021
Mick is determined to find Tina, Denise confronts Lucas, and Billy goes on a desperate job hunt.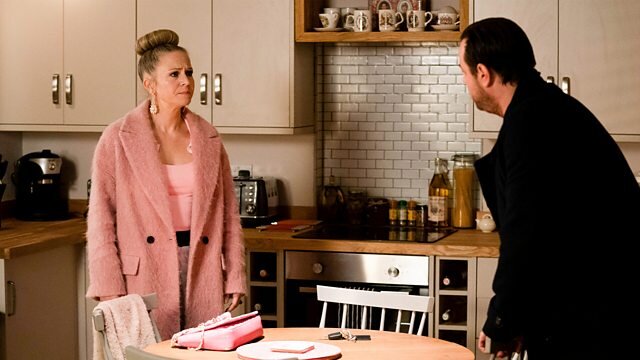 02/02/2021 37x19
03.02.2021
Linda's suspicions grow, and she becomes determined to get to the truth. Denise is upset when Chelsea chooses her father over her, and fed up with Billy, Honey snaps.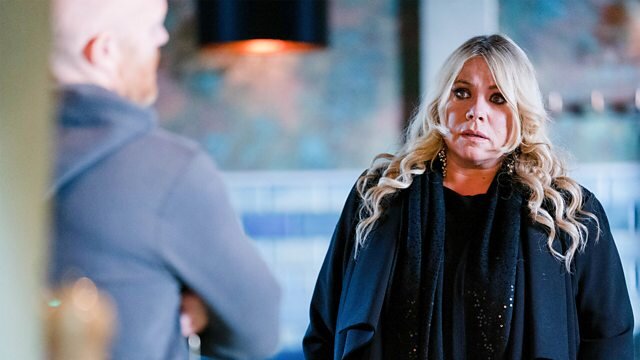 01/02/2021 37x18
02.02.2021
Max drops a bombshell in The Vic, Billy vents his anger at Jay, and Chelsea is more determined than ever to make things work.
29/01/2021 37x17
30.01.2021
Lola's actions leave her in Billy's bad books, and Gray is left reeling after his proposition is turned down.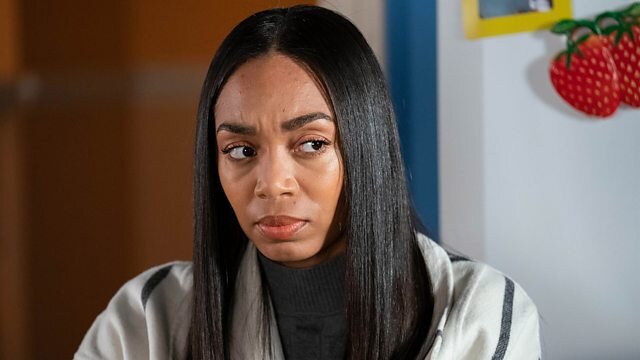 28/01/2021 37x16
29.01.2021
Lexi takes charge of Ben's love life. Jack comes up with a risky plan but will Denise agree?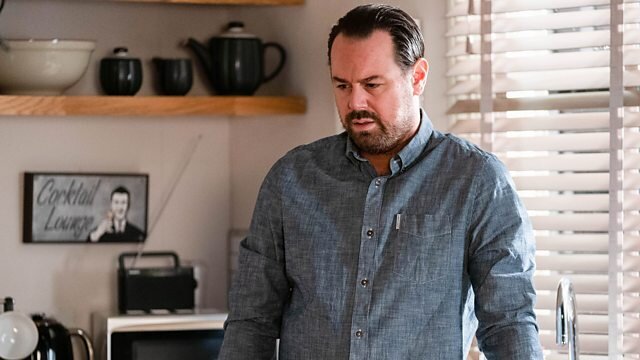 26/01/2021 37x15
27.01.2021
A close call for Honey and Jay leads them to a big decision, and a desperate Kathy pushes Sharon for more answers.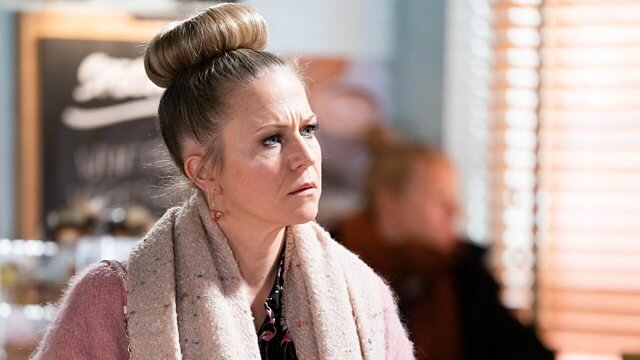 25/01/2021 37x14
26.01.2021
Alarm bells ring for Linda, and Chelsea finds herself in hot water.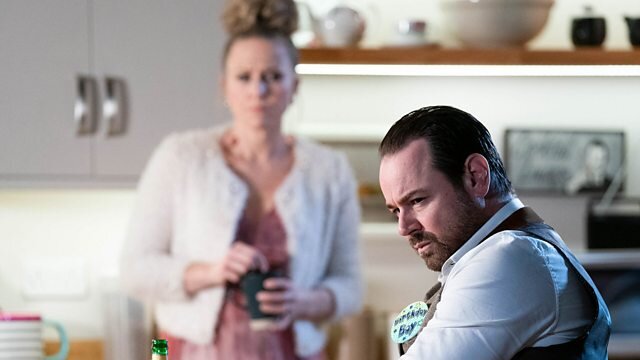 22/01/2021 37x13
23.01.2021
Sharon learns that revenge is a dish best served cold, and Mick is put in an impossible position.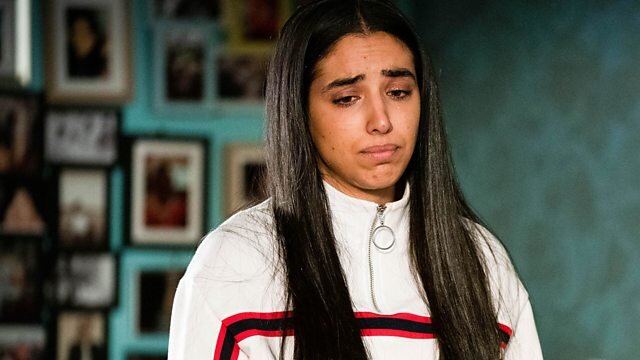 21/01/2021 37x12
22.01.2021
Sharon is wavering, but a voice from the past spurs her on. Bitterly disappointed, Iqra makes a difficult decision.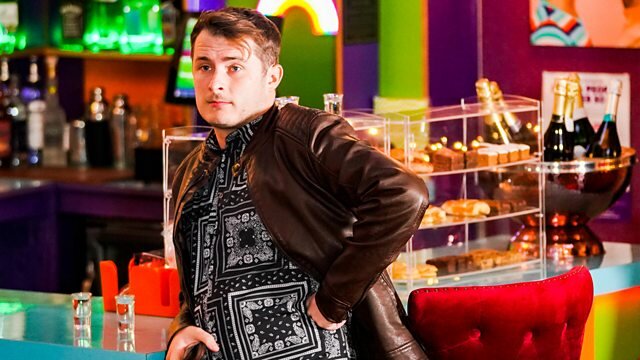 19/01/2021 37x11
20.01.2021
Denise has a change of heart, but at what price? Suki's vicious tongue strikes again.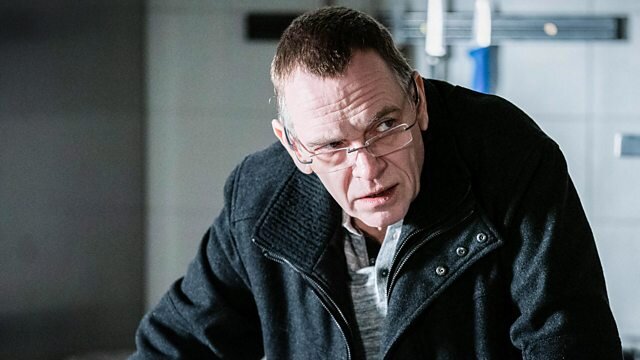 18/01/2021 37x10
19.01.2021
Jay seizes an opportunity that could help Billy, and Frankie considers her future.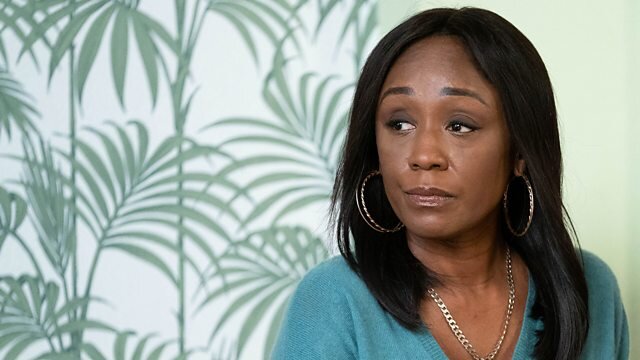 15/01/2021 37x09
16.01.2021
When Denise hears the truth, she fears the worst. Gray struggles with Karen's new role, and Kathy is distraught and at a loss for what to do next.
14/01/2021 37x08
15.01.2021
Jean forges ahead with her plan and offers some words of wisdom to a struggling Sheree. Shirley is determined to put her family first and wants answers. Martin finally realises what he wants.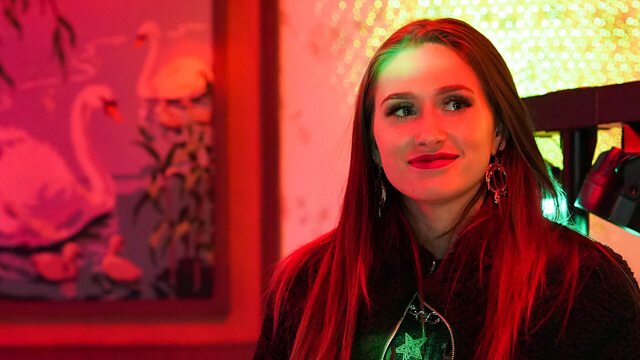 12/01/2021 37x07
13.01.2021
Jean is determined to do things her way, and Frankie spirals, leaving Callum worried. Ash and Iqra are drifting apart whilst an unlikely pair get closer.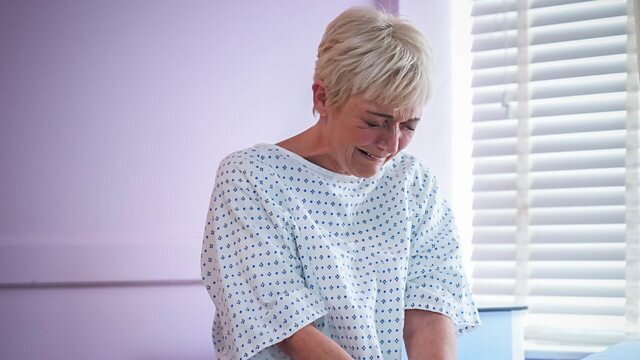 11/01/2021 37x06
12.01.2021
Shirley is stunned when she learns the truth and takes matters into her own hands. Denise is left questioning who she should believe.
08/01/2021 37x05
09.01.2021
Martin gives Sonia some words of encouragement. Ben finds himself in a tricky situation with the police.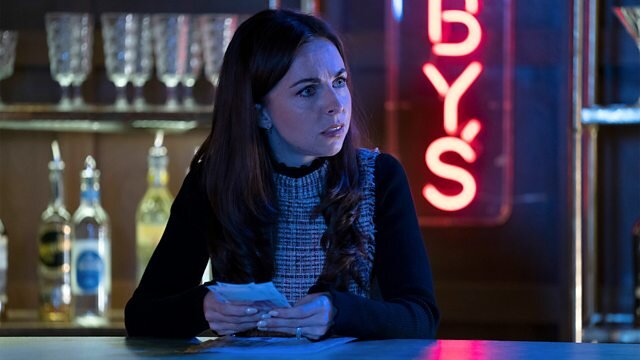 07/01/2021 37x04
08.01.2021
Patrick tries too hard to please everyone. Ruby makes a snap decision in an attempt to keep Martin close. Gray tells Karen that he wants his kids back for good.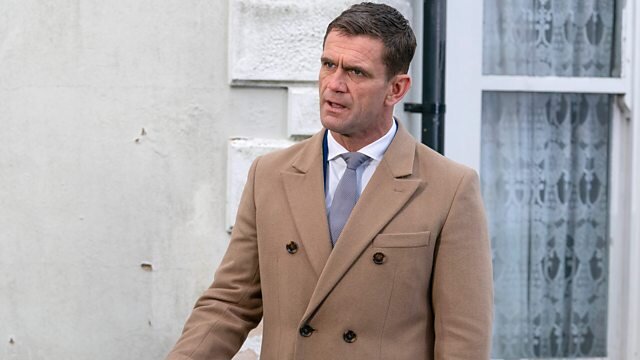 05/01/2021 37x03
06.01.2021
Jack negotiates a deal with one person in mind and sparks fly with Denise. Whitney has a choice to make.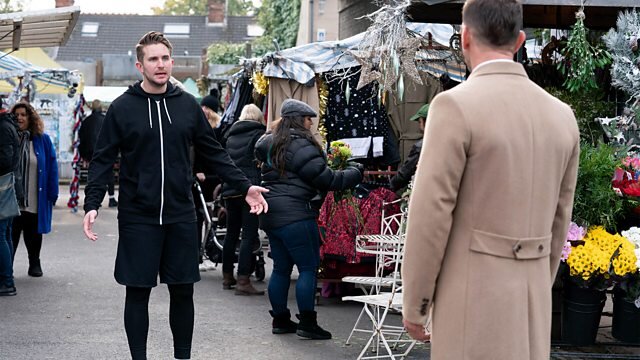 04/01/2021 37x02
05.01.2021
A desperate Stacey turns on Ruby. Sonia struggles to cope and the cracks start to show. Callum's luck has ran out as Jack delivers bad news
01/01/2021 37x01
02.01.2021
Memories once lost are bubbling at the surface. Will they break through? The Slaters worry about Kush, and Stuart finds himself in very hot water.